Pandora Media, the company behind the popular online music streaming service, has filed for an initial public offering and will begin trading publicly for the first time ever on Wednesday morning.
Pandora's stock market debut is a highly anticipated affair as it marks the latest Internet company IPO and comes amidst concerns that skyrocketing valuations for social networking sites and other online firms may portend another tech bubble.
Get updates throughout the day on Pandora's IPO in our live blog below.
06/16/2011 10:48 AM EDT
Pandora Trading Below Opening Price
Pandora Media's share price has dipped below its opening price of $16, and now it is trading at only $15.59.
This marks a 10.5 percent decline from the end of trading yesterday. According to TechCrunch, the Pandora bubble officially has popped.
Washington Post satirical blogger Alexandra Petri had a witty take on Pandora's business model yesterday:
"How is Pandora worth more than $3 billion? I've been suggesting bad music to people for years — for free!
"'Do you like this song?' I ask. 'Here is another song that is not as good as the song you were just listening to. Like the first song, it employs drums. I am assuming that's what you liked about the first song, the use of drums. But if not, I will suggest three more songs by the same artist just to make sure you understand what I'm getting at. No? Okay, here is an ad for Heineken....'
"No wonder Pandora's worth so much money. That is what happens when you delegate taste, as we're increasingly doing: to algorithms, Personal Shoppers and whoever picks those owl sculptures for Urban Outfitters. I wish I were quirky, but I'm too busy! Can Zooey Deschanel send me a list of the clothing she's wearing?"
--Bonnie Kavoussi
06/15/2011 4:16 PM EDT
Pandora's Closing Price: Only 9 Percent Above Opening Price
During its first day as a public company, Pandora Media's share price proved to be valued by investors only 9 percent more than its opening price: at $17.42 per share.
Henry Blodget, editor-in-chief of Business Insider, wrote without irony, "CONGRATULATIONS WALL STREET AND PANDORA! A Hot Tech IPO Is Finally Priced Correctly."
Blodget argued that correctly pricing a technology company during an IPO is good both for the company and for investors.
Many online commentators have noted that Pandora has only modest hopes for profitability in the future, at best. And investors do not need an Economics PhD to know that companies need to have a realistic plan to become profitable to stay in business.
--Bonnie Kavoussi
06/15/2011 2:27 PM EDT
Pandora's Share Price Is Dropping Back to Its IPO Price
After soaring to a high of $26 per share, Pandora Media's share price now is hovering only 13 percent above its opening price of $16: at about $18.
It seems that critical analysis of Pandora's business fundamentals has forced investors to reconsider whether Pandora can become a technology powerhouse.
As royalty fees outpace possible advertising revenue per user, Pandora's losses during its most recently recorded 9 months were $6.8 million, in contrast to losses of $3 million during the same period last year.
Alexandra Petri, a satirical blogger at The Washington Post, tweeted, "You are kidding me. Pandora is worth $3 billion? I've been suggesting bad music to people for years for FREE!"
--Bonnie Kavoussi
06/15/2011 1:04 PM EDT
Down--But still 'overvalued'
As of mid-day, Pandora's stock price has settled down, hovering around $20 a share at a $3.25 billion valuation, down from today's high of $26 a share, but up from its opening price of $16 a share at a $2.6 billion valuation. "I think the stock settles in here and doesnt move much for the rest of the day," Anupam Palit, an analyst at private equity firm
GreenCrest Capital
, told Huff Post. "I still think it is heavily overvalued," he adds.
--Nate Hindman
06/15/2011 12:48 PM EDT
What this means for you
How will Pandora's IPO affect listeners like you?
HuffPost's Alex Wagner explains:
As Pandora's IPO sends Wall Street spinning, the hefty infusion of cash will position the company to deliver a better experience to its estimated 34 million active users (and counting -- the company estimates a new user is added every second).

For Pandora, innovation must come quickly: With cloud-based music services on offer from Google and Amazon and Apple's iCloud to be released soon, Pandora's personalized radio service faces certain competition from virtual music libraries that allow consumers to create their own, customized playlists -- without the ads that make up nearly 90 percent of Pandora's revenue.
06/15/2011 11:45 AM EDT
Who's getting rich off of Pandora's IPO?
Here's a look at who'll be making a mint off of Pandora--hint: it's not Pandora's founder.
06/15/2011 11:02 AM EDT
WSJ: Investors should be wary
"Investors shouldn't chase the shares if its stock-market debut is as strong as expected," The Wall Street Journal's Rolfe Winkler wrote this morning.
Winkler noted that even as Pandora adds more users and revenue, its losses continue to grow because of long-term structural problems. While about 20 percent of traditional radio is devoted to advertising, for example, only about one percent of Pandora's listener time is devoted to advertising. Moreover, since the ads repeat themselves, it appears that many businesses do not view Pandora as a very effective venue for relaying their message.
In short, the price of royalties that Pandora must pay for streaming more music to more users has been far outpacing advertising revenue per user, according to Winkler.
"This IPO looks like one to tune out," Winkler concluded.
--Bonnie Kavoussi
06/15/2011 10:59 AM EDT
What is Pandora worth?
So how much is Pandora actually worth? Former hedge-fund manager Andy Kessler likes to use what he calls a 10 times rule. "If a company is worth $10 billion," he wrote in the Wall Street Journal, "can they someday, any day, make $1 billion in profits in one year? If so, maybe it's worth holding on to." If you bought Pandora's stock after its first hour of trading today, you paid at least $26 a share at a $4.2 billion valuation. That means, according to Kessler's rule, you're banking on the Internet radio service netting at least $420 million in annual profits somewhere down the line.
Pandora is yet to turn a profit, and has posted cumulative net losses of $46.7 million in the three prior fiscal years. In its SEC filing, the company said it expects to incur operating losses on an annual basis through at least the end of fiscal 2012. As New York Times reporter Evelyn M. Rusli notes, "Popular yet unprofitable has become the common refrain on Wall Street, as more and more young Internet companies race to the public markets."
--Nate Hindman
06/15/2011 10:34 AM EDT
PHOTO: Pandora at the NYSE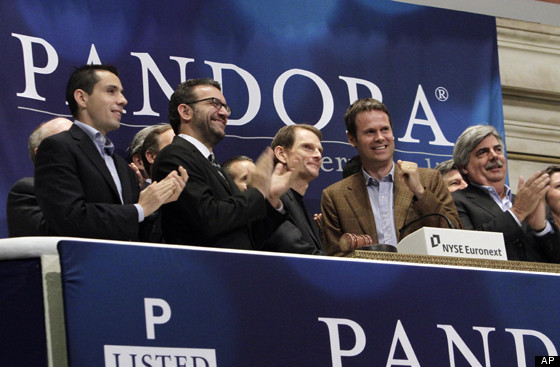 via AP: "Joe Kennedy, third from left, CEO & President, and Tim Westergren, fourth from left, Chief Strategy Officer & Founder, of Pandora internet radio, ring the NYSE opening bell to celebrate their company's IPO at the New York Stock Exchange Wednesday, June 15, 2011." (AP Photo/Richard Drew)
06/15/2011 10:28 AM EDT
Pandora's IPO By The Numbers
Losses, fees, listeners and more: We've put together a guide to all the key Pandora stats.
$51 million: Revenue in the first quarter of 2011, up 131% from the same period last year.

$6.8 million: Losses in the first quarter of 2011, up 126 percent from $3 million in the same period of 2010. Pandora is also 92 million dollars in debt, 46 million of which are from the last three years alone.

58: Percentage of revenue needed to pay for music royalty fees.

37 to 57: Percent that royalty fees are expected to rise in the next four years. Price per song is currently 0.102 cents--by 2015, it could be 0.14 cents.
SUBSCRIBE TO & FOLLOW THE MORNING EMAIL
The Morning Email helps you start your workday with everything you need to know: breaking news, entertainment and a dash of fun. Learn more