Republic Airways Plans To Give Up Control Of Money-Losing Frontier Airlines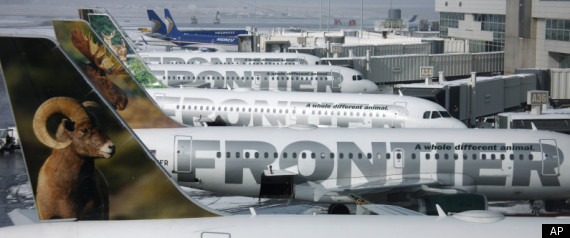 -- Republic Airways plans to shrink its ownership of money-losing Frontier Airlines to a minority stake by the end of 2014 under an agreement with Frontier pilots.
Republic has a split operation in which it flies for hire by major airlines, and it also operates Frontier as its own airline. Frontier reported a pretax loss of $55.2 million in the quarter that ended March 31, an improvement from its loss of $70.4 million a year earlier. Republic's for-hire flying had a $17.6 million pretax profit in the most recent quarter.
Republic bought Frontier out of bankruptcy protection in 2009, and merged it with Midwest Airlines, a small Milwaukee-based airline. Frontier's main hubs are Denver and Milwaukee, where it faces tough competition from Southwest Airlines Co. and AirTran, which Southwest recently acquired.
The deal between Republic and the Frontier pilots reached on Friday includes cuts such as giving up future pay raises, and reductions in retirement plans and vacation. In exchange, they'll get a stake in Frontier. The size of that stake has not yet been determined, said Jeff Thomas, president of the Frontier Airlines Pilot Association. Pilots are expected to vote on the deal on Friday.
In addition to the pilots, Republic has agreed to try to find new Frontier investors that would reduce its ownership of Frontier to a minority stake by the end of 2014, according to a filing on Friday. Republic also said it will try to raise at least $70 million in debt or other financing, as well as add planes to Frontier.
Thomas said the pilots union would not be the majority shareholder. "We're pilots. We're smarter than buying airlines," he said, laughing.
He said trading give-backs on the pilot contract for a stake in the airline made sense. "We believe in the business, we're trying to build a foundation" for future profits, he said.
Shares of Indianapolis-based Republic Airways Holdings Inc. surged 49 cents, or 11.6 percent, to close at $4.70 on the news.
Dahlman Rose & Co. analyst Helane Becker wrote that she expects the $70 million will be raised by borrowing against spare parts. She kept her "hold" rating on the shares because of concerns about the economy, volatile fuel prices, and short-term revenue issues. "Frontier is likely to flounder this year," she wrote.
Copyright 2014 The Local Paper. All rights reserved. This material may not be published, broadcast, rewritten or redistributed.