Baby Bikinis: Cute Or Completely Inappropriate?
When beach-goers show off their bikini bodies, they are usually over 6-months old.
That might not be the case much longer. Thanks to a range of two-piece swimsuits being designed for babies as young as three months old, your infant can sport her very own itty bitty teeny weeny number. Baby bikinis come in a baffling array of styles: leopard print is a common theme, and many come with side ties and sparkles. Perhaps inevitably, you can now purchase a bathing suit for your baby with "Juicy" monogrammed on the butt.
Are these suits adorable or utterly creepy? Check out the ones we've shown below — all currently for sale — and decide for yourself.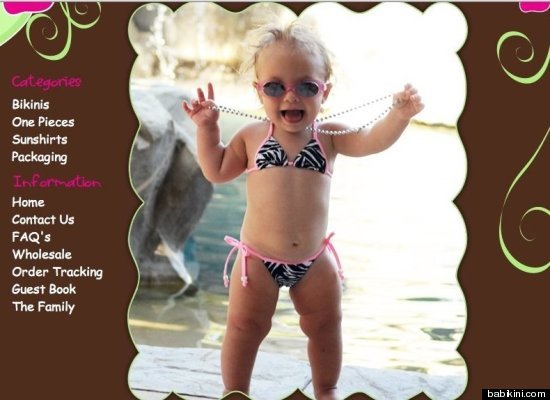 Jennifer Moon

said on 24 Friday 2011 pm30 5:17 pm:


If you think this is creepy or sexual in any way - YOU are the creepy one. There is nothing wrong with this. It's a baithing suit ...
Total comments:
148
|
Post a Comment