Conan O'Brien Asks Again For Los Angeles Street
UPDATE: Councilman Paul Krekorian has evidently taken Conan's plea to heart, offering this response on Twitter today: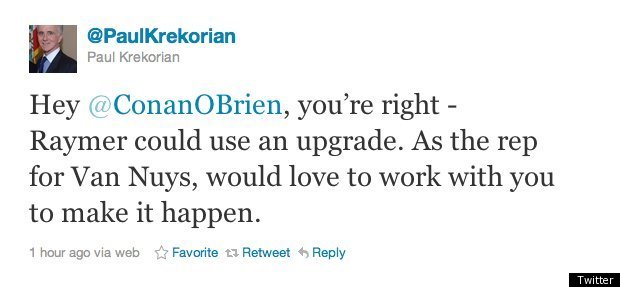 Might his dream become a reality after all? Stay tuned...
Original Story
Conan O'Brien Boulevard -- it sounds kind of nice, doesn't it?
The comedian and television personality certainly thinks so. After hearing that the mayor of Chicago recently named a street after Oprah Winfrey,Conan wants Los Angeles to give him the same honor. He has even picked a location: West Raymer Street, an unkempt little road in Van Nuys. Since his first plea went unnoticed by Mayor Antonio Villaraigosa, Conan is willing to to make a deal. Check out what he's offering our fair city...