Toll Road Privatization: As Ohio Considers It, Indiana Serves As Cautionary Tale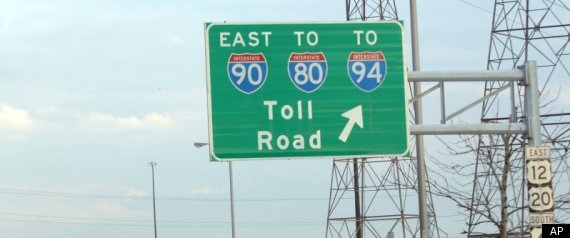 WASHINGTON -- In two weeks, the cost of traveling the 157-mile length of the Indiana Toll Road will rise more than 2 percent, from $8.80 to an even $9, for those who pay the toll in cash. The fare will jump a full buck for truckers hauling semi-trailers, from $35.20 to $36.20.
The July 1 toll hike may not seem so painful, until you consider that those tolls were about half of their soon-to-be rates only five years ago -- and that they hadn't risen for two decades prior to that. Even harder to swallow for some drivers, truckers in particular, is the fact that their growing contributions go not to the State of Indiana but to overseas investors who've leased the toll road from the state.
"Saying we're less than thrilled would put it really mildly," says Todd Spencer, executive vice president at the Owner-Operator Independent Drivers Association, a trade group that represents truckers. "In Indiana, over the span of a few years, we've watched truck tolls more than double."
In 2006, under the orchestration of Gov. Mitch Daniels (R), the state struck a deal to lease the road for a period of 75 years to Australia-based Macquarie Group and Spain-based Cintra. The investors paid the state $3.8 billion upfront in exchange for the right to collect tolls. The investors are required to maintain and upgrade the road for the duration of the lease.
It's still too early to tell how good or how rotten a deal the state got. In fact, there are those who believe Macquarie and Cintra may have greatly overpaid for the highway, and Daniels himself has gloated that the arrangement was "the best deal since Manhattan was sold for beads." (Daniels' office did not respond to questions about the deal.)
But what can't be denied is that the road is getting more expensive to travel on. And no one knows how expensive it might get. (So far the rates have not been raised on drivers with transponders, but that will change in 2016, when those drivers will start paying the cash rates.) The road's leaseholders can now raise the toll annually at one of three rates -- at a flat two percent, at the percentage increase in the consumer price index or at the percentage increase in gross domestic product -- whichever is highest. Over the course of the coming decades, Hoosiers can expect to learn a hard lesson in compound interest, long after Gov. Daniels is gone.
"I think they're going to regret promising the toll road operators that they could do that," says Jose Gomez-Ibanez, a professor in public policy at Harvard's Kennedy School of Government who's studied road privatization for years.
Such is the bargain some cash-strapped states are willing to make in order to mortgage their infrastructural assets. Whether it's parking meters, government buildings or highways, privatization deals look awfully tempting these days, with state budgets strained to the breaking point and many Republican-leaning states in an anti-government fervor. These long-term deals can provide sitting politicians with an immediate windfall, but they can place a considerable burden on taxpayers two or three generations from now.
We're likely to see more of these deals made in the future. In its most recent annual report, investment bank Goldman Sachs noted that "recent market conditions may lead to an increase in opportunities to acquire distressed assets," such as toll roads, airports and shipping ports. Such deals, the report went on, "expose us to new and enhanced risks," including "greater regulatory scrutiny" and "reputational concerns with the manner in which these assets are being operated or held." The public wouldn't want to get gouged at the tollbooth -- and certainly not by Goldman Sachs.
"If you want to cast a broad brush, you would say that leasing an existing asset is essentially the most problematic use of privatization," says Oregon Rep. Peter DeFazio (D), a senior member of the House Transportation and Infrastructure Committee. "Look how desperate some states are, leasing their lotteries. It's pretty short-sighted. One of the most basic things government does after public safety and law enforcement is infrastructure, and we've known that since the first Congress." DeFazio described toll-road privatization as the "outsourcing [of] political will" in a 2007 Mother Jones story probing the Indiana deal, since it leaves to private companies a duty that few politicians have the courage to do: raise tolls.
Although former Pennsylvania Gov. Ed Rendell (D) never saw the Pennsylvania Turnpike privatized like he'd hoped, in recent months Ohio Gov. John Kasich has voiced his support for leasing the Ohio Turnpike and its future tolls to investors for $3 billion, which, after writing down some $600 million in debt, would leave the state with a $2.4 billion payday.
"I can take that money and I can put a billion dollars in infrastructure," Kasich said earlier this year, according to the Cleveland Plain Dealer. "Wouldn't that be fantastic, instead of having an asset that is underutilized in the state at a time when we are in a crisis? I think so."
What Kasich would like to undertake is often called an "asset monetization" project, wherein a government leverages an existing asset expressly to tap private capital markets. Ibanez-Gomez, for one, believes road privatization projects can be done well, but he tends to get uncomfortable when politicians like Kasich seem to have no motive other than to essentially borrow lots of money.
Much of the public, too, tends to squirm when we talk about leasing long-held government assets under contracts that span the better part of a century. Kasich's musings haven't escaped Ohio Congressman Tim Ryan (D), who believes leasing the Ohio Turnpike long-term could be disastrous.
"I think it's a bad idea," Ryan says. "It's a quality roadway, and I think we really risk an increase in tolls and a decrease in quality if this thing gets privatized.... To me it's another example of pure ideology, where everything that government does needs to be abolished or privatized."
Subscribe to the HuffPost Hill newsletter!