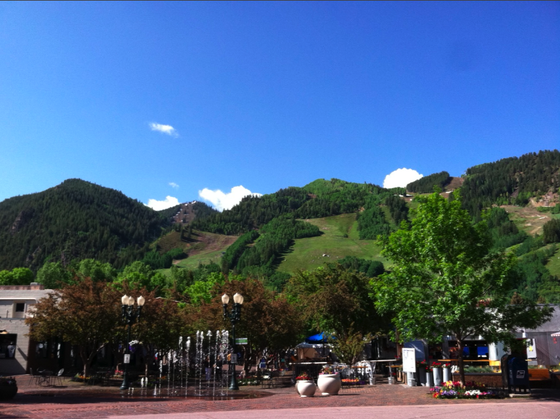 HuffPost Food is here in Aspen for the 29th annual Food & Wine Classic. Check back throughout the weekend and follow us on @HuffPostFood as we update you on highlights from the event.
3:30PM: Sexy Vegetable Dishes with Jose Andres
Jose Andres had a very special sous chef keeping him in line and helping him whisk, stir and peel cucumbers during his demonstration: his seven-year-old daughter. He moved in rapid speed to execute 10 dishes in 45 minutes and still had time to sing "I'm too sexy" as he prepared his bloody mary gazpacho. "This is the best liquid salad in the history of mankind," he explained (pre-alcohol).
According to Andres, sexy vegetables include: asparagus, radishes, beets, Brussels sprouts, eggplant, green beans, soybeans, carrots, jicama and beets. But, overcooked Brussels sprouts are decidedly "not sexy" and technically since the tomato is a fruit, it isn't a sexy vegetable either.
What does Jose Andres find to be the sexiest vegetable of all? Iberico ham. The pigs are fed a diet of acorns so that sort of counts?
2PM: Goat Is Great with Andrew Zimmern
Andrew Zimmern wants you to eat more goat. Worldwide, it is a widely consumed protein, and for good reason -- it's a versatile meat. "I could never understand why [American] people were so off put with it." Zimmern prepared goat tartare, goat kebabs and goat shoulder roast.
Tip for the kebabs: don't be afraid of fat, fat pieces should be intermixed with the goat meat and vegetables.
Tip for goat meat, and meat in general: "I don't like to buy meat in a place they don't allow TV cameras."
Tip for butchering goat meat: Find Josh Applestone of Fleisher's. Seriously impressive watching him break down a whole goat carcass in just minutes.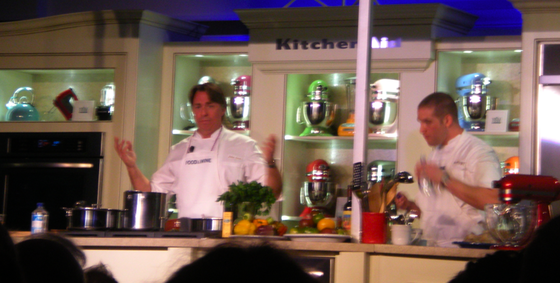 10AM: The New New Orleans with John Besh
Poor chef John Besh was hurting a little bit this morning after a late evening. But, that didn't stop him from serving French 75s to the audience. "L'chaim y'all," he announced to start his New Orleans seafood demo. "I'm not supposed to serve drinks but if you're from New Orleans, you learn how to break the rules."
Besh is a huge proponent for the many local ingredients that New Orleans offers, and is equally excited about New Orleans' melting pot food culture. As he was learning to be a chef, he worked in kitchens with Vietnamese women immigrants and continues to use Vietnamese influences in his food. Vietnamese food, combined with French, African, Cajun and Native American flavors (at a minimum) makes up New Orleans cuisine, believes Besh.
He prepared several dishes highlighting Louisiana's seafood bounty--crab, shrimp and soft-shelled shrimp which you can only get if you "have friends." A Marylander asked him if he used Old Bay seasoning for crabs. "Hell no," Besh exclaimed, I'm a Zatarain's guy." This chef clearly has New Orleans pride pumping through his blood, and for good reason.
3:30PM: Seafood of the Adriatic with Mario Batali
It's starting to feel a little bit like water, water everywhere but not a drop to drink (actually there is plenty of alcohol to drink). It is torturous watching Mario Batali make three seafood dishes and then watch someone take the plates away. We would have eaten that!
It was obvious that Batali had spent many hours behind a camera before--he could work a crowd and still execute three complete dishes as if it was nothing.
Here are his thoughts on some common Italian food products:
Olive Oil: Batali stressed the importance of understanding what olive oil one is purchasing. A better quality oil can often really make a difference.
Anchovies: Despite that many restaurants serve anchovies hairy and super salty, they should in fact be oily, rich and full of umami flavor.
Garlic: If you burn garlic in a pan, start the whole dish over. It isn't worth it.
Shellfish and Cephalopods: Be careful when seasoning. You never know how salty the water was that the seafood came from.
Pasta: For his spaghetti with rock shrimp dish, when the pasta is almost fully cooked, Batali recommends mixing the pasta with the shrimp in a pan with a bit of pasta water. However, it is important that the pasta water gets absorbed. "The last thing they would do in Italy is serve a wet noodle."
Basil: An "aggressive" amount was suggested for his scampi with pepperonata.
Italian Parsley: Use it.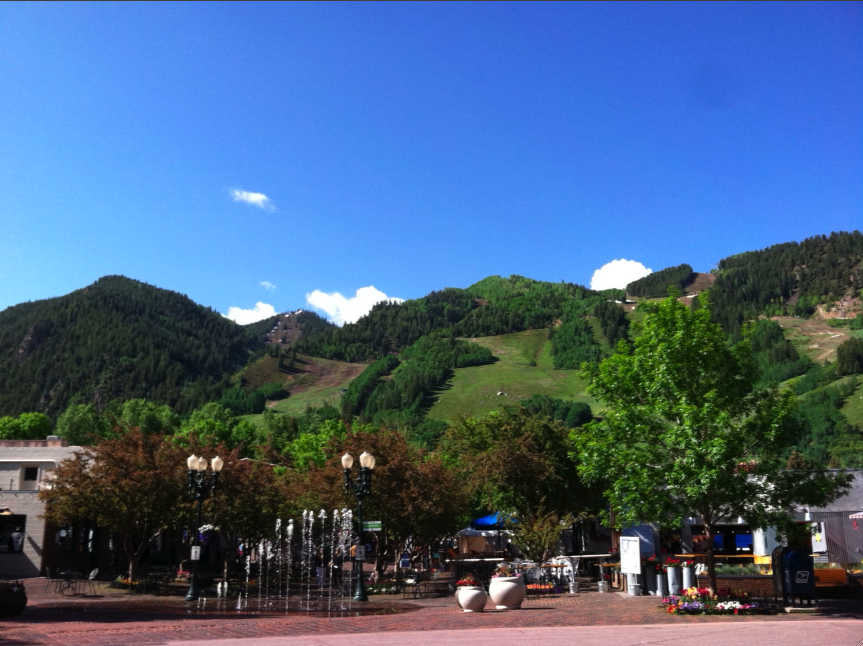 2PM: Global Street Food with Susan Feniger
Chef Susan Feniger may just be the nicest gal around, as everyone in the audience seemed especially taken with her down-to-earth charm (and it also helped that she broke the rules and threw some samples to the crowd). The best part of her street food demos were her slightly tangential anecdotes. A few decades ago, Feniger used to cook for Wolfgang Puck. She called chef Mary Sue Milliken and told Milliken "I don't know if this guy knows what he's doing." He apparently figured it out.
When Feniger and Milliken first opened City Cafe in Los Angeles, the bathroom was located inside the kitchen. So, whenever celebrities would eat there, the chefs would instruct the busboys to give the celebrities lots of water so that they would have to use the restroom, and thus the chefs could see them.
Besides the stories, Feniger demonstrated four dishes that reflected her take on global street food: Indian chaat, Singaporean kaya, Latin American ceviche and donuts because "donuts are found all over the world." The kaya, a coconut curd served on toast, is one of the most popular dishes at Feniger's Street restaurant. "Pople say they want to rub it all over their body," Feniger explained. But, that same dish got her kicked off Top Chef Masters Season Two. "I don't know what those judges were thinking."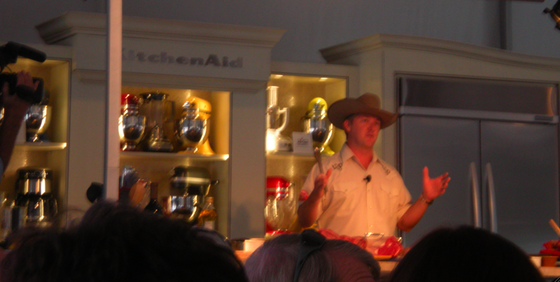 10AM: Grilling Master Class with Tim Love
Chef Love certainly knows his steaks and although we picked up a few great tips about grilling, all his amazing one-liners were definitely the highlight. Here's what he had to say:
Always use peanut oil for grilling. Since the grill should be "screaming hot," peanut oil won't burn whereas olive oil will.
Chef Love is serious about seasoning. He instructs everyone to be liberal with the seasoning, and then do it again. "I'm talking about heart attack seasoning."
When using a gas grill, "shut the damn lid."
You should never marinate red meat unless you want it to taste like something else. Otherwise, "why don't you just go buy a McDonald's hamburger, pour a bunch of shit on it, and eat it."
He was almost stumped when a woman asked what to do if you love steak but can't tolerate salt. Chef Love said that was probably his hardest question in 22 years, but recommends grilling the steak sans salt and then grating Parmigiano-Reggiano on it after cooking.
For leaner steaks such as filets or strips, butter or compound butter can give a necessary flavor boost (and extra fat, which is a good thing).
Toward the end of the demo, Chef Love ran down the aisles offering samples. "You gotta come early for the Tim Love Show," he announced to those not so lucky to try his meat. He also had at least two shots and a glass of white wine during his slated 45 minutes, calling out New Orleans Chef John Besh as the one that tries to steal his shot-taking thunder. To close, six audience volunteers participated in Shot Roulette, in which they were blindfolded and handed a shot glass. Five glasses had tequila and one had canola oil; the canola oil victim handled it quite well--if you're willing to participate in the game, you have to handle the consequences.
SUBSCRIBE AND FOLLOW
Get top stories and blog posts emailed to me each day. Newsletters may offer personalized content or advertisements.
Learn more