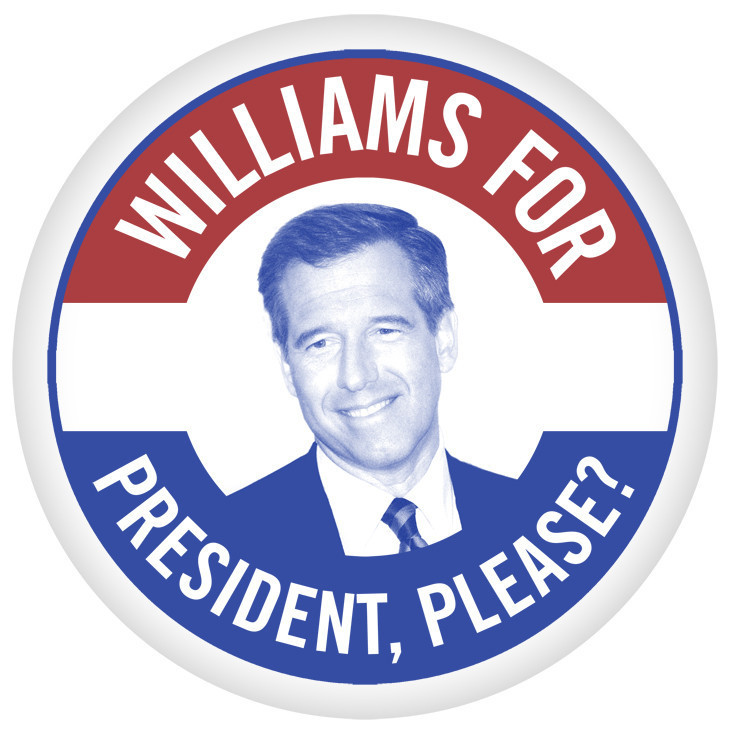 What's better than Brian Williams slow-jamming the news? Brian Williams making the news by running for president. Of course, the NBC Nightly News host has yet to make any overtures suggesting that a political campaign might be in his future, but that hasn't stopped a grass roots campaign from forming in his honor.
As of today, BrianWilliamsForPresident.com is a real thing complete with campaign ads, posters and volunteer sign up forms. The group's mission: to convince Brian Williams that he "has the gravitas, chiseled jaw and general awesomeness that this country needs in a president."
Speaking directly to Williams on their site, the campaign had this to say:
Brian Williams, If you're reading this, awesome! Step one in your candidacy is complete: becoming aware that we want you to be a candidate. Step two is coming to your campaign kick-off, of course. On Saturday July 16th, we're gathering BriWi supporters from around the globe (or New York City) to a rally to kick off what we hope will be your campaign. The rally will feature elaborate orchestrated numbers, propaganda videos about your rise in the political landscape, spoken tales of your general greatness and also a story about that time you killed a wild boar. You didn't kill a boar? You sure? Alright. Well, we already made some campaign ads saying you did, so just be cool if someone asks.
While Brian Williams may not be convinced by the campaign so far, or even aware of its existence, after watching the three ads created by Team BriWi (also known as political sketch wunderkinds The Full Ginsburg) we're on board. After all, who else's campaign has the cajones to say, "In Brian Williams America all cars are hover cars, all boats are hover boats and all planes operate normally...."?
See for yourself why "Brian Williams For President" may be THE story of the 2012 campaign season, and let us know what you think. Should he go for it?
SUBSCRIBE TO & FOLLOW ENTERTAINMENT
HuffPost Entertainment is your one-stop shop for celebrity news, hilarious late-night bits, industry and awards coverage and more — sent right to your inbox six days a week. Learn more