Paddle8 is a new kind of art experience. The goal of the venture is to expose more people to art by centering a collection of pieces around a theme. Each exhibit is organized by a different guest curator, someone who has distinguished themselves in their fields.
What separates Paddle8 from other online art services, such as Art.sy and VIP Art Fair, is the fact that each exhibit has a dossier that uses video and text to explain the context of the art the buyer is thinking about purchasing. Paddle8 is trying to let consumers buy art in an informed way.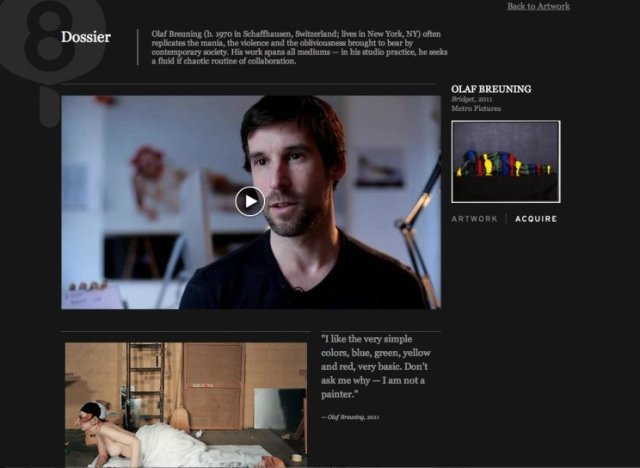 Above, Dossier from Exhibition 0, "Saturation."
Additionally, potential buyers must request to register an account with the service, in order to ensure the stature of the service as well as the galleries participating. After a member is vetted, Paddle8 arranges payment and transfer if and when they decide to purchase a piece of art.
The previews are promising, with big name galleries like Marianne Boesky, Friedrich Petzel, Elizabeth Dee, Andrew Kreps, Metro Pictures, Bortolami, Salon 94 participating as well as younger galleries such James Fuentes, Rachel Uffner, Museum 52, and Canada.
The first exhibition, centered around the idea and history of wit, is curated by writer Glenn O'Brien. Artists in the exhibition include: Dan Colen, Rob Pruitt, Tom Sachs, Laurie Simmons, Adam McEwen, Hanna Liden, Jessica Craig-Martin, among othersIn the dossier for the exhibit, O'Brien explains:
"Wit is understanding, intelligence. In Old English witt = knowledge. It is the power to perceive analogies, and relationships between incongruous ideas. It is the ultimate non-violent weapon, and the whoopee cushion on the throne. Wit was the daemon of Socrates, and the muse of satire on the ancient stage, and today it remains the most significant means of intellectual initiation. Wit is the great catalyst of unprecedented combinations.