Cedric Everson, Former Iowa Football Player Gets 1 Week In Jail For Sex Assault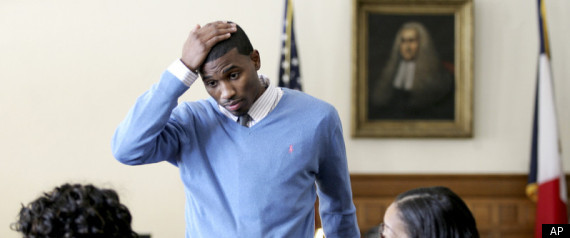 IOWA CITY, Iowa — A judge sentenced a once-promising Iowa football player Friday to one week in jail for a 2007 assault on a female student-athlete, saying he should be ashamed of his actions in a case that caused a university-wide scandal.
District Judge Paul Miller ordered Cedric Everson to serve the seven-day sentence at the Johnson County Jail. He gave Everson until July 15 to report so that he can finish summer classes at a community college in Detroit as he seeks to return to college athletics.
Jurors convicted Everson, who turns 22 next week, of simple misdemeanor assault in January after finding him innocent of charges that could have brought lengthy prison terms.
Miller warned Everson not to take solace in the verdict.
"Regardless of the level of crime the jury convicted you of, you should be ashamed of your conduct that resulted in the conviction for assault," Miller told Everson. "You came here to Iowa City as a football player for the University of Iowa. You were looked up to by people throughout the state of Iowa."
In a brief statement, Everson quietly told Miller that he wanted to apologize to the woman for his actions and wished her the best.
"I feel like I really learned my lesson. I've been through a lot. I've really matured from this situation," he said. "I don't have words to put it in, but it feels like I'm a changed person."
Spies said Everson has received two scholarship offers from two unidentified colleges, and he's hoping to take advantage of his final two years of eligibility.
Prosecutors said Everson sexually assaulted a freshmen athlete who was passed out after his then-teammate Abe Satterfield did so first in a Hillcrest Residence Hall room. The woman, who chose not to appear at Friday's sentencing, testified at trial she ended up in the room with Satterfield after a night of drinking, and he forced intercourse against her wishes. She said she woke up the next morning naked and covered in blood and didn't find out Everson had also assaulted her until weeks later, after he bragged about the encounter to teammates.
Prosecutor Anne Lahey asked Miller to impose the maximum sentence of 30 days in jail "due to the nature of the assault and the harm to the victim in this case."
Everson's attorney, Leon Spies, said the jury verdict was a repudiation of the prosecution's case and argued Everson should avoid jail time just like Satterfield did. He argued during the trial the woman had consensual sex with both men but didn't remember because she was in a state of "functional blackout."
Lahey contended at trial that Everson sneaked into the dorm room, traded places with Satterfield, had intercourse with the woman while she was helpless and left to cover up his actions. She suggested Everson and Satterfield, teammates and roommates, coordinated the assault.
Satterfield received a suspended sentence on an assault charge under a plea deal with prosecutors after agreeing to testify at Everson's trial, but his testimony wasn't particularly helpful to their case.
He testified the woman "was the aggressor" and had consensual sex with him. He said Everson came in the room while he and the woman were sleeping, tapped him on the shoulder and told him to get out of bed. Satterfield said he fell asleep on the floor and didn't know what happened between Everson and the woman. Everson, who is now married, did not take the stand in his own defense.
Iowa coach Kirk Ferentz suspended Satterfield and Everson, a freshman who was a highly recruited defensive back, after the assault and they both later transferred.
Months later, the victim's mother released letters accusing athletic department officials of encouraging her to keep the matter private and being insensitive to her situation. Those documents had not been turned over to a Board of Regents investigator who had earlier found no wrongdoing.
A subsequent independent investigation found no evidence of a cover-up but faulted other university officials for showing poor judgment and blamed the university's confusing policies for upsetting the victim, a highly recruited athlete who also transferred.
School President Sally Mason fired Dean of Students Phil Jones and General Counsel Marcus Mills after she blamed them for mishandling the case. Jones and Mills have defended their actions and filed lawsuits alleging wrongful termination.
The judge has also ordered Everson and Satterfield to pay a total of $2,084 to cover the cost of the woman's sexual assault examination. He ordered Everson to not have any contact with the woman for five years.
Copyright 2013 The Local Paper. All rights reserved. This material may not be published, broadcast, rewritten or redistributed.