"My favorite part of playing Coach Beiste is I've played everything -- the cop, the security guard, the mechanic -- but this is the first role people are seeing where I get to show my vulnerable side, to show I have a heart and I have insecurities just like anyone else," Dot Marie Jones told Th Huffington Post in a conversation Thursday. The actress just finished her first season on "Glee" as Beiste, the female football coach who is hard as nails but also, at heart, a big softie.
Those insecurities came in handy when Jones served as a mentor on this week's episode of "The Glee Project," Oxygen's reality show aimed at finding a new star for the hit show. On this week's revealing episode the hopefuls have to display their insecurities in public on white sandwich boards over their bodies.
"I was supposed to just be there earlier in the episode, but I wanted to be there when they filmed the music video too, so I went," Jones told HuffPo, although she was mum on spoilers teased in the previews about emotional revelations and last-minute changes. "All I can tell you is these kids dug deep. Some were really nervous and for some this was the first time they were talking about these insecurities ever. I was crying. I we we had something like this show when I was a kid."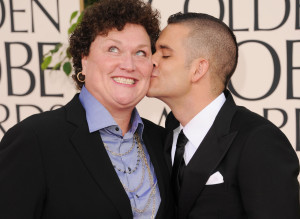 Jones even has plot ideas of her own for one hopeful in particular. "I had a great idea, I think I mentioned it to Ryan (Murphy), but if not maybe we can make this happen," she aid, laughing. "The boy from Ireland on the show, Damien, I think it would be great if Beiste takes in a foreign exchange student since she doesn't have a family of her own."
Jones' journey to "Glee" was a diverse one -- she started out her career as an Olympic qualifier in shot put and a youth counselor at a juvenile rehabilitation center. A friend got Jones involved in a "American Gladiators"-like show in the 90s, which led to various bit parts in movies and TV. The 20-year veteran actress worked with "Glee" creators Ryan Murphy and Brad Falchuck on other projects, including "Nip/Tuck" and an unaired pilot for "Pretty Handsome'" in which Jones played a pre-operative transsexual.
"I'm so proud of ('Pretty Handsome'). It breaks my heart that people really didn't get a chance to see that show."
Later Jones ran into Falchuk in a grocery store and prodded him about getting involved in "Glee." "I said, 'Write me something,' just joking, you know, but not really. And he asked if I can sing and replied, 'I'm no Mariah Carey but I can carry a tune.' Then two months later they asked if I was free in mid-July to take on a character they'd written for me. I started crying, I'm a big softie. It's an honor that they created Beiste just for me."
Jones is spending her summer relaxing from "Glee,' taking part in an international Gleek fan meet-up in Australia, and playing the waiting game about her status next season.
"I think the waiting game is giving me an ulcer," she joked. Murphy remains mum on the fate of several recurring actors, including Darren Criss, Ashley Fink and Jones. Still, regardless of Beiste's fate, Jones has made many memorable connections thanks to her time on "Glee."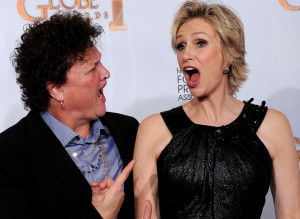 "I have a Twitter and have followers from all over the world. It's pretty overwhelming. After 20 years in the industry being a part of 'Glee' is like the platinum ring. 'Glee' reaches so many people. The demographics of people who watch the show blows me away," Jones said. "I had a little boy, maybe five or six, come running up to me yelling, 'I love you Coach Beiste' and I just had to hug him. And on the other end of the spectrum, at the airport once a man who must have been well into his 80s, he grabbed my arm and said 'I think you're terrific.' Anybody can relate to anyone on 'Glee' at some point in their life."
One particular message from a fan stands out in Jones' mind. "This girl says she related to Bieste because she was always one of those girls who didn't have anywhere to sit at the lunch room. I told her, 'You will always have a seat at my table.' "
SUBSCRIBE TO & FOLLOW ENTERTAINMENT
HuffPost Entertainment is your one-stop shop for celebrity news, hilarious late-night bits, industry and awards coverage and more — sent right to your inbox six days a week. Learn more