New School Voucher Laws Face Backlash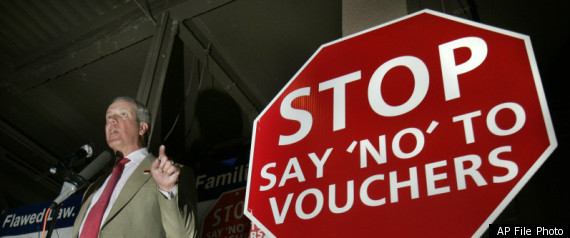 Cindra Barnard loves her district's public schools. That's why she's fighting the school board.
Barnard is a resident of Douglas County, Colo., where her daughter graduated from high school this year. Her son, Mason, is a rising senior at Highlands Ranch High School. Last year, Mason's school offered two Advanced Placement chemistry courses. Next year, it will only offer one.
Barnard suspects the limited AP offerings are because of a new voucher program in the high-performing, well-off Douglas County that allows students from all public school-enrolled families -- chosen via a lottery -- to attend private schools using public money.
Arguments for voucher programs stress that they don't suck resources from public schools since the public money allocated for educating each child follows that child to private schools. But Barnard says classrooms work on economies of scale -- removing one child from a public school classroom merely siphons off resources for that school.
"Your costs do not go down," she said. "What goes down is revenue. You're hurting the remaining students."
So when Barnard, who is president of the local group Taxpayers for Public Education, saw her school board moving closer to unanimously voting for the 500-student pilot program in March -- and earning accolades from former Washington, D.C., schools chief Michelle Rhee -- she felt she had to take action.
She started by writing letters and contacting her local representatives. On Tuesday, she joined the American Civil Liberties Union and other groups in filing suit against her local school board and the state board of education, seeking to halt the voucher program. The complaint she filed on her own and her son's behalf sums up her worries:
As Colorado taxpayers, Plaintiffs will suffer injury from the Voucher Program because it expends taxpayer funds in violation of the Colorado Constitution and Colorado statutory law. As residents and taxpayers within Douglas County and the Douglas County School District, Ms. Barnard, as well as her minor child, will suffer injury because of the loss of control over the education they are required to fund.
Douglas County officials ignored the suit, moving ahead with a lottery this week to fill the last slots in the program.
A groundswell of backlash and legal action, from Colorado to Wisconsin, is following the flurry of laws passed this legislative session that created or expanded programs that allow parents to use public tax dollars for private -- and, often, religious -- schools.
By the count of Robert Enlow, CEO of the Friedman Foundation For Educational Choice, five states, including Indiana and Oklahoma, passed new voucher-school programs this legislative session, and seven states, including Florida and Wisconsin, passed or are expected to pass laws that expand existing programs. Washington, D.C.. had its controversial voucher program reauthorized during the lead-up to what almost became a government shutdown.
Similar laws could be on the horizon in Pennsylvania, New Jersey and Ohio. Douglas County will have Colorado's first voucher program.
"I think what we're seeing with vouchers is really just part of the greater urgency we're seeing around education reforms in general -- across the country, parents, community members, school leaders, public officials -- they're all demanding change," Rhee said in an email statement to The Huffington Post.
THE VOUCHER STORY
The question of vouchers, or of any program that allows public money to fund private or religious schools, touches on the separation of church and state and well as the issue of school choice.
Charter-school and voucher advocates claim the right of school choice -- the ability of a parent to choose a school based not on geography, but on fit -- as key to their cause.
But the issues of vouchers cleaves the movement. The Obama administration, a champion of charter schools -- which are publicly funded but can be privately run -- has not publicly supported voucher programs. But some Republican governors have.