To enter the world of Edgar Allen Poe is to take a trip into the dark and ominous. It looks like John Cusack has gone in full throttle.
The actor plays the famed author in the upcoming film, "The Raven," a story of his final days, spent chasing a killer who used methods found in Poe's dark short stories and books. Recently, he tweeted, in response to a fan question, that the film is due for release, "next feb or maybe this fall - i'm hoping .."
Cusack has done a lot of tweeting from the set of the film, which is being directed by James McTeigue and co-stars Alice Eve, Luke Evans and Brendan Gleeson. Here are a few of the tweets:
"its true to poe...expect the worst. RT @LuckyLeilani#Raven #Poe #movie scary or a "thriller" ? I wanna be REALLY scared... That's hard to do"

i am well ... will be sending out some poe action pics when the time is right.. http://yfrog.com/kgjeiwj http://yfrog.com/kkkc4tj
PHOTO: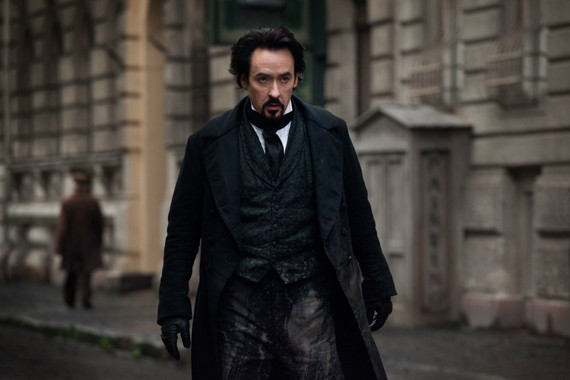 SUBSCRIBE AND FOLLOW
Get top stories and blog posts emailed to me each day. Newsletters may offer personalized content or advertisements.
Learn more