Being an executive chef is hard. You have to do physically taxing work for long hours, while most people with non-culinary jobs are relaxing, eating and drinking. You have to manage food supplies, food suppliers, and an entire kitchen staff. You have to write recipes, keeping up with the latest developments in the culinary world and maintaining high quality, seven days a week.
Now imagine doing all this 10,000 miles from home, without reliable access to drinking water, fresh meat or produce, in a place where temperatures rarely rise above freezing.
That, in short, is the task that will be assigned to the brave soul who ends up as the Executive Chef of the McMurdo research station in Antarctica, home to over 1,000 summertime residents. NANA Services, the company that manages the stations' operations and food services, has just posted a job listing for the job on Denver Craigslist. The executive chef spends seven months of the year in Antarctica and the other five months at the company headquarters in Colorado. NANA says they're looking for someone with "Bachelor's Degree, Culinary Arts Degree and a minimum of seven (7) years cooking experience, with at least three (3) years of supervisory responsibilities in high-volume, (not including convenience of fast-food), facilities with diverse populations." Pay is not specified.
One small potential upside of being a chef in Antarctica is that there is no need to wrangle with local suppliers. Bulk food is shipped from Los Angeles to McMurdo Station just once a year, in February. During the summer (which lasts from November to March), fresh meat, fruit and vegetables are flown in from New Zealand, which is just five hours away.
Here's the full Craigslist posting: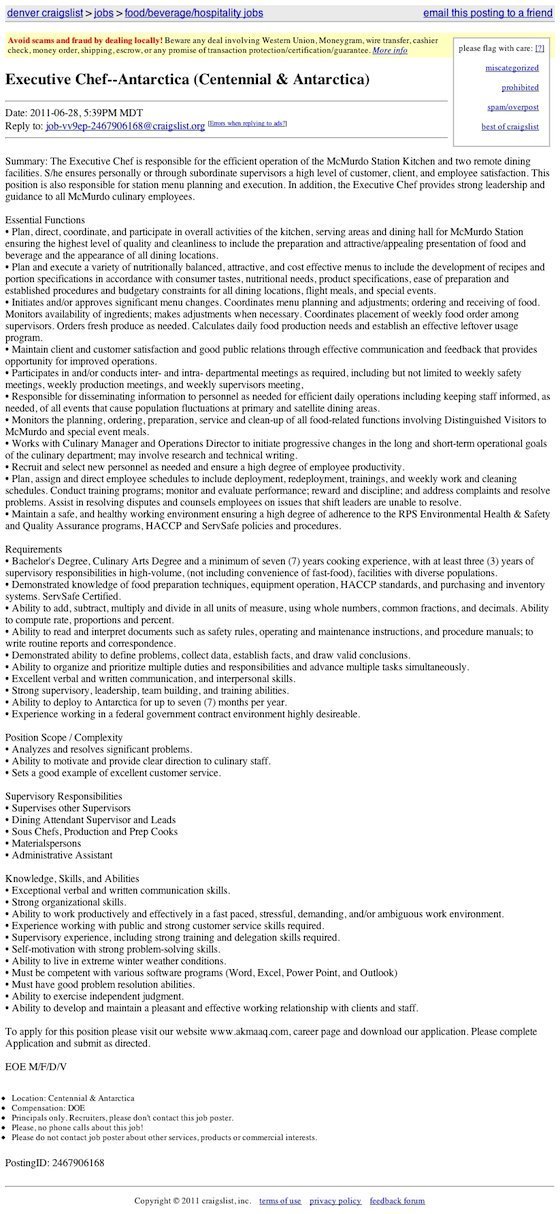 SUBSCRIBE TO & FOLLOW THE MORNING EMAIL
The Morning Email helps you start your workday with everything you need to know: breaking news, entertainment and a dash of fun. Learn more