Their message: There's more where that came from.
And now, in the case of who drank the Amstel, the brewery has its answer.
Click here to see an infographic of the EPIC bar tab.
Deadspin reports that the Amstel Light drinker is New York socialite Shallon Lester, who found herself partying at Foxwoods with the Stanley Cup champions.
According to Deadspin, Lester sent the following e-mail to friends:
Here's the dirt on the "Lone Amstel" incident as it is heretofore known :)

My tweet: Uh sorry guys, it was me. Seriously. RT @nbc_sports: Which @NHLBruins ordered the lone #AmstelLight on the $156,000 tab?

As for the Amstel, we were at Shrine (the nighclub inside Foxwoods) and Shawn Thornton was kind enough to pass the Stanley Cup full of Ace of Spades our way, but the champagne was warm and gross so I ordered a beer from the waitress. But if Amstel is keen on giving away beer, I think it should go to Jordan Caron. He was definitely the most excited to be in Lord Stan's presence and definitely definitely used it to try and get laid.
Should Amstel make good on its offer to provide free Amstel Light for a 4th of July barbecue -- or, not to discriminate, Canadian Independence Day party -- as well as complimentary beer for the player's turn celebrating with the Cup?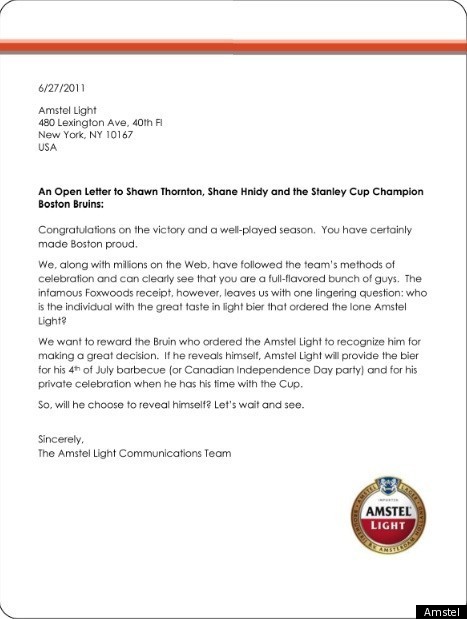 SUBSCRIBE AND FOLLOW
Get top stories and blog posts emailed to me each day. Newsletters may offer personalized content or advertisements.
Learn more