Veterans Charity Fraud: Despite Widespread Outrage, Groups Continue To Abuse Public Trust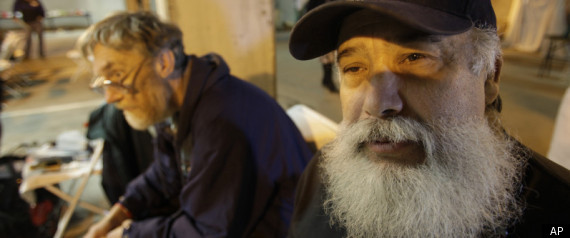 For hundreds of thousands of veterans returning home from the battlefronts in Iraq and Afghanistan, making it home alive is just the first challenge.
An estimated 25 percent of returning U.S. service members will experience combat-related problems such as post-traumatic stress disorder (PTSD), traumatic brain injury (TBI), depression or anxiety disorders. More veterans are committing suicide than are dying in combat overseas -- 1,000 former soldiers receiving care from the Department of Veterans Affairs attempt suicide every month. About 50,000 veterans are experiencing chronic homelessness, according to nonprofit housing group HELP USA. And the unemployment rate for 18 to 24-year-old veterans is 21 percent, much higher than the 16.6 percent rate for non-veterans of the same age.
Though the VA has come a long way from the 1970s, when many Vietnam veterans failed to reintegrate into society and became homeless and addicted to drugs, the department still has problems. The VA bureaucracy is notoriously difficult to navigate, and veterans are left to figure out on their own what benefits they are eligible for. As a result, many fall through the cracks -- more than 720,000 veterans do not take advantage of VA benefits for which they are eligible.
To fill in the gap, veterans charities are a crucial resource -- providing financial assistance and job training, funding medical research and rehabilitative services, and helping veterans obtain government benefits. Every year, Americans give millions of dollars to such groups, expecting that the money will assist those who've served their country.
But as a group, veterans charities are prone to abuse, profiteering and outright fraud, say philanthropy watchdogs. Almost half of the 39 veterans charities rated by the American Institute of Philanthropy in its April/May 2011 report received F grades, largely because they devoted only a small ratio of their expenses to charitable programs, in part due to excessive fundraising expenses. Some of these groups defend their spending by arguing that reliance on such ratios is misleading, claiming that new nonprofits may have to spend over 50 percent of their revenue on outreach, education and fundraising for a while. But charities that spend up to 90 percent of their donations on overhead have been widely condemned and were the subject of congressional hearings in 2007.
Despite bipartisan outrage at such practices, there was no real follow-up, either through enforcement efforts or new rules and regulations. And several of the charities publicly shamed at those hearings continue to receive poor grades. In the last few years, there have been several prominent cases of nonprofit groups that preyed on the public's patriotism and generosity, promising assistance to veterans while lining their own pockets. They range from an impostor -- currently one of the most-sought fugitives in the country -- who claimed he was a Navy commander and ripped off at least $2 million, to a classic fraudster, who set up a table for non-existent veterans groups in front of the local post office and raked in money for years.
CRUCIAL LIFELINE TO THOUSANDS OF VETERANS
Their misdeeds cast a pall over the sector, making the public skeptical of veterans charities and threatening future donations to those groups that deserve praise.
"Veterans charities are extraordinarily important," Oregon Attorney General John Kroger tells The Huffington Post. "There is a lot the VA doesn't do, and charities help fill that gap. And the majority of them do an excellent job, but if you're looking to line your own pocket, it's an easy way to raise money. If you're looking for a feel-good cause that can raise money on the phone, there is very little that has as much appeal as veterans' issues."
Darnell Epps, a 52-year-old veteran living in Virginia Beach, was homeless for years until he discovered Vetshouse, the only nonprofit in Virginia to help homeless veterans. Through the group, he was given a car to help him start his cleaning business and provided with transitional housing and food.
"If it wasn't for them, I would probably still be out on the street," he says. "They gave me my life back. The VA can't do it all and these charities are key; they've helped many of us vets."
Ed Edmundson credits veterans charities with easing the burden of his son, Eric, who incurred shrapnel wounds and a brain injury in a roadside bomb explosion in Iraq. The North Carolina native says he sold his business and cashed in his savings and retirement to pay for the cost of moving in with Eric and his family to provide round-the-clock care. Some of the family's expenses, including the cost of flying Eric's wife and daughter from Alaska to Walter Reed Medical Center, were covered by various charities, such as the Wounded Warrior Project and the Semper Fi Fund.
"Non-profit organizations became an answer to our prayers," says Edmundson.
The Wounded Warrior Project and several other prominent veterans charities such as Fisher House Foundation, the Navy-Marine Corps Relief Society and the National Military Family Association, have been praised for assisting thousands of veterans.
ABUSING THE TRUST OF DONORS: 'THIS IS A HUGE PROBLEM'
Attorney General Kroger says the issue is close to his heart since he himself is a veteran of the Marine Corps. But when his office recently surveyed the rising number of charities in Oregon and which ones spend the most on overhead as opposed to charity, "a number of veterans groups came up extraordinarily high on the list. One was outright fraud -- a guy setting up a table at a shopping mall -- and another problem was people who were raising money and not being honest about where the money was going. This is a huge problem."
Since taking office in 2009, Kroger has been particularly aggressive in taking legal action against veterans charities that abuse the trust of donors. Among his cases is a lawsuit against Veterans of Oregon, charging that the charity claimed that donations were helping homeless and hospitalized veterans when in fact it was largely used to award medals to veterans. In addition, the group failed to disclose to donors that its fundraising partner kept 80 percent of the money it raised. The head of the charity, William "John" Neuman, is fighting the case, adamantly denying to the Chronicle of Philanthropy that he misled donors.
Subscribe to the HuffPost Hill newsletter!