Sotheby's triumphed this week and signaled an end to art market woes as its Contemporary Art evening sale raised $174.1million - the highest London total ever. Following closely on the heels on the Impressionist/Modern blockbusters, which realized over £237 million, the British capital was abuzz with anticipation to see if the rebound streak would continue. Last year left spectators dubious about the market's recovery, when almost half the lots at Phillips were rejected, bidding at Sotheby's was tame, and even Christie's was among those auction houses failing to surpass their high estimates. With more than £213 million raised thus far, and two more upcoming day sales at Sotheby's, it appears that the market will continue enjoying success.

Phillips shook-up its usual series-closing routine by deciding to open the week with its evening sale on Monday. The decision, along with offering a more selective catalog of bigger ticket items, paid off to the tune of £11,243,350 (estimate £10-14.4 million). At lot #8, Jean Michel Basquiat's haunting 1985 Self-Portrait (below, left) achieved the highest bid of the night, selling within estimate to a telephone bidder for £2,057,250 ($3,246,690) and proving a five times increase for the artist. The 31 lots, 27 of which were sold, showcased younger artists such as Jacob Kassay, whose market potential is red-hot this year. "After Venice, after Basel, and a long spring of auctions in New York, there's still an appetite for contemporary art" said Michael McGinnis, worldwide head of Phillips' contemporary department, observed.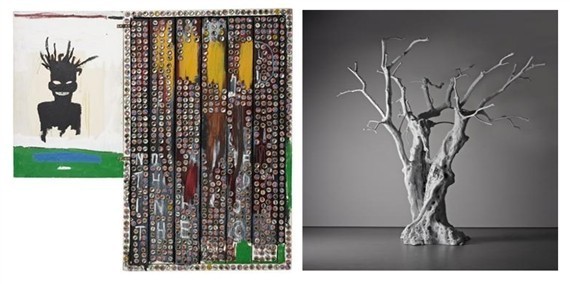 Mark Tansey, Beatriz Milhazes and Damien Hirst also finished on top, while Milhazes' O Moderno and Ugo Rondinone's Get Up Girl a Sun Is Running the World (above, right) broke records for the artists at £713,250 ($1,109,730) and £541,250 ($715,500), respectively. During the 40 minute sale bidding was lively, though measured, barely reaching more than $2 million. Five works were guaranteed by third parties, including the Basquait and Milhazes which succumbed to their guaranteed bids. Nonetheless, the company realized a huge turn-around from last June's outcome, when the sale reached only £3,963,450, suffering from a 47% buy-in rate by lot. The day sale with 205 more affordable works sold added £4,773,700 to de Pury's total.
At Christie's and Sotheby's on Tuesday and Wednesday, Francis Bacon sizzled with the highest estimates of the week for never-before auctioned works. Study for a Portrait championed Christie's £78.8 million Post-War and Contemporary art evening sale, achieving the London location's second highest bid ever for this genre - fetching £17,961,250 ($28,666,155). The estimate was reportedly set at £11 million for the stern-faced portrait of a business man positioned in a throne-like chair against a dark background. Over at Sotheby's, lot 49's Crouching Nude - a distorted image believed to be a blend of photographs of Bacon's closest female friends in the 1960's - fulfilled expectations to capture the #1 spot, selling within estimate at £8,329,250.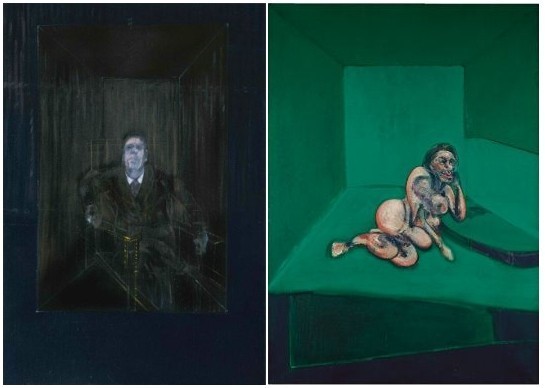 Mimicking Bacon, national favorites Peter Doig and Lucian Freud also caught buyers' attention. Doig came in third for the night with Red Boat (Imaginary Boys) catching an outstanding £6,201,250 ($9,897,195) against a £1.4-1.8 million estimate, a major rebound for the artist whose prices dived during the recession. With a bid of £4.7m ($7.5m), Lucian Freud came in fourth place for Woman Smiling, portraying his lover Suzy Boyt. Five other Freud drawings of cats, rabbits and monkeys from Kay Saatchi's collection all found buyers, including Rabbit on a Chair, fetching $1.6 million, nearly three times its $636,800 high estimate.
The sale was an international affair however, with 14 artist nationalities represented and buyers from 16 countries. Francis Outred, head of this category for Christie's Europe, said, "this diversity is breaking down boundaries and creating a competitive arena where collectors are being introduced to and bidding for works independent of their origin." Warhol's' Mao sold for £7 million ($11,148,459) and pieces by Juan Muñoz and Miquel Barceló exemplified the Spanish artists' gaining popularity. Barceló's Passing the Cape doubled its high estimate and set a record for any living Spanish artist. 12 of the lots struggled unsuccessfully to secure buyers, including works by Ed Ruscha, Chris Ofili, and even Warhol's silkscreen portrait Sean Lennon. Even so, the $125.8 million total was the company's highest since June 2008 for a sale of contemporary works in the U.K. capital.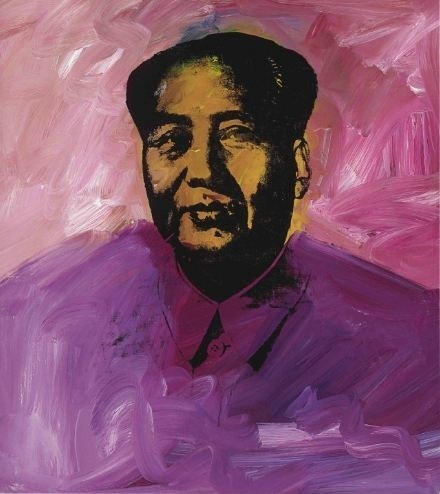 The next night Sotheby's outshone its rival with a £108.8 million ($174.1million) total - establishing the highest total for an London Contemporary Art sale ever. The first 34 lots of the sale featured the Duerckheim Collection, hallowed by Sotheby's as the greatest offering of German Art of the 1960s and 1970s ever to come to market. The collection alone brought over £60m ($96.7m), with almost every lot attracting multiple bidders. Sigmar Polke headlined this portion, breaking his own record three times consecutively; Dschungel, the largest of his famous 1960s dot paintings ever to appear at auction, took top honors when four bidders drove it to a £5,753,250 ($9,207,501) record. Gerhard Richter and Georg Baselitz also proved extremely popular, with Baselitz reaching a new record (Spekulatius, £3,233,250).
Rock 'n' roll swept the night away with iconic works from the collection of Eurythmics' Dave Stewart; here Damien Hirst sold above estimate with his Dantrolene (Being God for Dave) spot painting (dedicated to Stewart). Not from the collection, Warhol's striking pink-haired portrait of Blondie's lead singer Debbie Harry made the top ten, realizing £3,233,250 ($5,174,493). The sale was estimated the raise upwards of £105.4 million. Last year's equivalent showed an unimpressive performance, achieving only £41,091,800 ($61,806,176), far short of its £52.8 million ($80 million) high. Wednesday's evening sale is already being hailed as solid evidence of a recovery in the contemporary art market. "Some artists' prices are now higher than they were in 2007," New York dealer Stellan Holm said.
Today Sotheby's will continue to test this theory, with its Contemporary Day auctions. Christie's day sale yesterday managed a total of £13,179,325 ($21,073,741), short of the £17,437,000 estimate, with 25% of the lots unsold (out of 251 total lots). Still, 105 lots sold above their high estimates; Anselm Kiefer got a 308% boost above estimate with his watercolor Über allen Gipfeln ist Ruh, and ceramic works by Picasso once again exceeded expectation, selling two and three times their estimates. Sotheby's morning sale will pick up with 25 more works from the Duerckheim Collection, while the afternoon session kicks off with 46 donated works by Hirst, Cindy Sherman, Richard Prince, and others to benefit the Serpentine's new 2012 space.
Written by MutualArt.com Staff
SUBSCRIBE AND FOLLOW
Get top stories and blog posts emailed to me each day. Newsletters may offer personalized content or advertisements.
Learn more