Dodger Divorce: Frank And Jamie McCourt In 'Vanity Fair'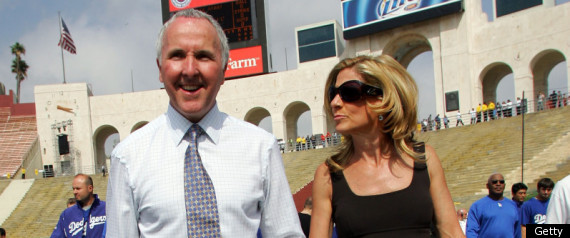 Was a protracted divorce trial at least partially to blame for the intense acrimony between Los Angeles Dodgers co-owners--and now ex-husband and wife--Frank and Jamie McCourt?
According to "A Major-League Divorce," a lengthy exposé about the couple's tumultuous split which appears in the August issue of Vanity Fair, that may indeed be the case.
In the piece, David Boies, one of the attorneys representing Jamie McCourt, is quoted as saying that the pair, who were together for over 30 years, were "actually enormously positive about each other at first."
At the outset of the trial, says Boies: "They respected each other and thought the other was smart and imaginative—frankly, I don't think that either had given up hope on the marriage." But things changed rapidly as the trial unfolded: "It was an interesting, and unfortunate deterioration from there."
In the piece, contributing editor Vanessa Grigoriadis documents the pair's messy divorce, which prompted a major 2-year fight about the ownership of the team that has caused its near-collapse. The story hit newsstands on Thursday--the same week the Dodgers filed for bankruptcy.