Having been plucked at age nine from a scholarly Oxford childhood and thrust onto a launching pad to superstardom and worldwide acclaim, Emma Watson lived out her adolescence in the skin of another's, and though she admits the similarities between herself and Hermoine, her beloved "Harry Potter" character, are abundant, with no great wizard wars to bring her to a fast maturity, Watson is now charged with discovering and exploring a womanhood of her own.
Making matters more difficult, of course, is the public magnifying glass under which she is doing so, and the desire she has to continue to act as other people, too.
As Watson moves to roles beyond the teenage Hermoine, she will be asked to play more than bookish and noble. And, along with exploring emotions she does not handle well, that's a prospect that scares her.
"My acting tutor said the hardest thing for me was to get angry. I almost broke down in tears when they tried to get me to be angry. I said, 'I can't do it, I just can't do it,'" Watson tells Harper's Bazaar UK in their newest issue. "I keep all of that really bottled up somewhere and I feel unleashing it would be the scariest thing - and to let myself be powerful, sexy, all those things, it's scary for me."
Of course, it wasn't as if she didn't bring out those feelings in her last few "Harry Potter" films -- with the all out war and deaths of the final two, including this month's series finale, she had to explore those emotions plenty. But it's perhaps something more palpable when you are forced to enter the realm of show business without the guarantee of the world's largest franchise for work and stardom.
Watson will feature in the upcoming teen drama, book-to-film, "The Perks of Being A Wallflower," but for now, she's sticking with college, not full out Hollywood life. For good reason.
"LA scares the crap out of me," she explains. "I feel if I have to work out four hours a day, and count the calories of everything I put in my mouth, and have botox at 22, and obsess about how I look the whole time, I will go mad, I will absolutely lose it."
Given her continually skyrocketing fame and fashion and makeup line-featured looks, that shouldn't be much of a problem.
PHOTO: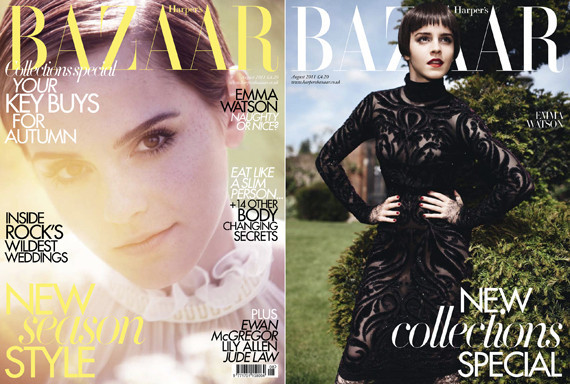 SUBSCRIBE TO & FOLLOW ENTERTAINMENT
HuffPost Entertainment is your one-stop shop for celebrity news, hilarious late-night bits, industry and awards coverage and more — sent right to your inbox six days a week. Learn more