Gallup: Slight Uptick In Trust In Newspapers, TV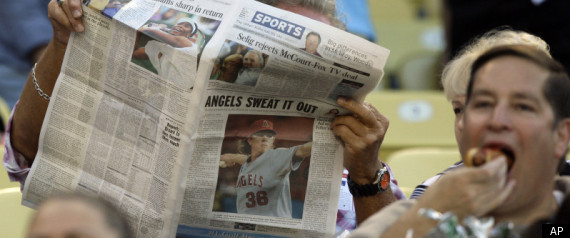 WASHINGTON — Public confidence in newspaper and television news has picked up slightly in recent years but still lags behind levels of trust from two decades ago, a Gallup poll shows.
The biggest improvement in media trust over the last year registered among 30-to-49-year-olds and men, the poll found. But those under 30 delivered a split verdict: confidence in television news rose 10 percentage points for that age group, while trust in newspapers declined 10 points in the same group. And improvements in media confidence among women were within the margin of sampling error.
Overall, Gallup reported, barely a fourth of Americans say they have much confidence in newspaper and TV news. Specifically, 28 percent of Americans reported having a great deal or quite a lot of confidence in newspapers in the latest poll, compared with 25 percent a year earlier. And 27 percent felt the same about TV news in the latest poll, compared with 22 percent a year earlier.
Broken down by gender, 30 percent of men and 27 percent of women reported having confidence in newspapers in the latest survey. And 25 percent of men and 30 percent of women reported having confidence in TV news in the survey.
Confidence in newspaper and TV news slid during the 1990s and hit bottom in 2007. Improvements in recent years, although small, could mark the beginning of a reversal in the trend, Gallup reported.
"The new data suggest that audiences may be coming to terms with the new media landscape, granting news organizations a little more goodwill in the process," a Gallup analysis stated. "At the same time, confidence in newspapers and television news still has a lot of room for improvement and young Americans' mixed mood in 2011 could be a precursor of volatility in years to come."
The survey of 1,020 Americans aged 18 and older was conducted June 9-12 and had a margin of sampling error of plus or minus 4 percentage points.
___
Online:
Gallup website: http://www.gallup.com
Copyright 2014 The Local Paper. All rights reserved. This material may not be published, broadcast, rewritten or redistributed.