Cory Maye Freed After 10 Years In Prison: The Back Story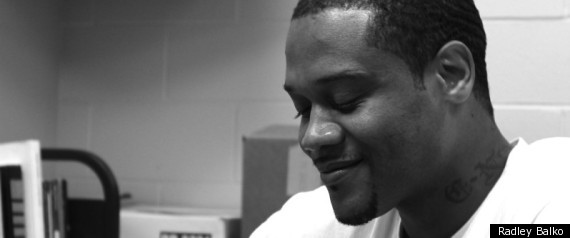 JOY, IF NOT JUSTICE
Evans has other cases this morning, so I leave the courtroom to file a story from the public library, as Maye is transferred back to the Lawrence County Jail. A couple hours later, Evans, Vernia, and I arrive at the jail to visit again with Maye. An attendant asks Evans what he needs.
"I'm here to see my client," Evans says. "Cory," he clarifies, though everyone knows.
"It'll be just a minute," the attendant says, then pauses. "I need to get someone to let you in."
"I thought you were going to tell me you hadn't finished beating him yet," Evans deadpans.
There's nervous laughter. Like most of Evans' cracks, there's a kernel of truth to the joke. Maye claims he was beaten shortly after the raid on his home. He was taken to a jail in Forrest County, in part because Sheriff Henry McCullum was worried about what might happen to him if he were left in Jefferson Davis County. Maye's family wasn't permitted to see him for more than a week, time enough, they allege, for his injuries to heal. Maye's brother told a local paper at the time that he was still bleeding from an ear when they were finally allowed to visit him.
We meet in a room in the jail. Maye, now unshackled, is in better spirits. Evans has brought him a sandwich from Subway. Maye peels off the orange prison shirt, revealing the "C-No" tattoo that wraps around the right side of his neck.
When I first began writing about Maye's case in 2005, the story quickly went viral around the web after a link from Glenn Reynolds of Instapundit. Within a couple days, I received an email from Claiborne "Buddy" McDonald, the DA who brought the charges against Maye, and who won Maye's conviction and death sentence. One of the things McDonald told me about Maye that wasn't in the trial transcripts was that Maye had tattoos. (This apparently was supposed to persuade me of Maye's guilt.) One, on his left arm, read "high life." (Maye has never denied that he occasionally smoked pot -- he has denied that he was a dealer.) The other is the "C-No" tattoo, a childhood nickname that stuck with Maye through the years. As the story goes, when he was a boy, a neighbor gave Maye a $100 bill in exchange for some help Maye had given him around the house. Maye had never seen a bill that large before, and so he triumphantly paraded it around the neighborhood. It earned him the nickname "C-Note," later abbreviated to "C-No."
In the jail, Maye pulls out a two-page letter and hands it to me. He has written it in the two hours since he left the courthouse. It's addressed to the people who have supported him over the years, nearly all of whom he's never met. "I didn't want you to be mad at me for not doing the video," he says. "I don't want anyone to think I don't appreciate their support."
Maye's pending freedom feels like justice, but there's something appropriate about his reluctance to fully embrace it. It's true that this is about the best outcome he could hope for. As Pafford pointed out in a phone call, it appears to be the first case in Mississippi history in which a man was convicted of killing a police officer and will live to talk about it outside the walls of a prison. And there's certainly no question that there's much to be celebrated about Maye's freedom, about his mother getting back her son, about his kids getting back their father. But Maye lost 10 years of his life. His girlfriend at the time and the mother of his daughter, with whom he had just moved into that duplex two weeks prior to the raid, has since, understandably, moved on. In a part of the country where fathers -- particularly the fathers of poor children -- often go missing, Maye's kids lost a doting, loving father for the most important years of their childhood. Crueler yet, Maye was separated from his kids for doing exactly what a father is supposed to do: He protected his daughter from harm. Of course, the Jones family also lost a son and a brother. And Prentiss, Mississippi, lost a good cop.
And still, the cause of all of this pain, the "drug war" -- a metaphor that's increasingly literal -- marches on. As do the increasingly militaristic tactics police departments use to fight it. At least 11 innocent people have been killed in drug raids since the December 26, 2001 raid on Maye's home. At least nine more nonviolent drug offenders have been killed. At least 17 police officers have been shot, four of them fatally. There have been dozens of other mistaken raids on the wrong home, as well as over-the-top raids on medical marijuana clinics and doctors' offices suspected of over-prescribing painkillers. Just last month police in Hampton, Virginia, shot and killed 69-year-old William Cooper during a drug raid on Cooper's home. Police had received a tip that Cooper was selling prescription drugs. When they forced their way in, Cooper pulled a gun, and they killed him. They found two bottles of prescription painkillers, hardly unusual for a man who suffered from arthritis, heart ailments and a number of other medical conditions.
Cory Maye will soon have a homecoming party. He'll get to hug his kids and eat his mother's cooking. But he'll always carry the unimaginable burden of having killed a man he knew and respected. Unless we rethink the idea that sending armed men to break into homes in the middle of the night is an acceptable way for the government to prevent people from getting high, there will be more Cory Mayes, more Ron Joneses, more William Coopers.
As Maye himself put it in a letter to a supporter in 2006: "We as citizens sit back and say, 'Well, this could never happen to me.' But it's happened before. And if we don't take a stand, it's gonna continue to happen to others."
Subscribe to the HuffPost Hill newsletter!