Debt Ceiling Debate: Obama, Congress Seek Deal As Deficit Crisis Looms (LATEST UPDATES)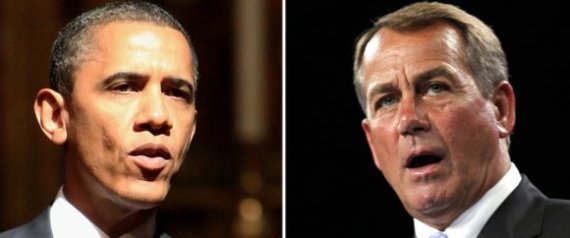 WASHINGTON -- With the United States government set to begin the process of defaulting on its debts on Aug. 2, according to the Treasury Department, the White House is working with lawmakers on a deal to raise the nation's debt limit in exchange for major spending cuts and, potentially, revenue increases to shrink the deficit.
Leaders from both chambers and parties are meeting with the administration nearly every day to work out a deal, after meetings on July 10 bore no agreements on whether to raise revenues as part of a debt-reduction plan.
President Barack Obama gave lawmakers 10 days to come to an agreement, insisting he will call daily meetings until a deal is reached to raise the debt ceiling. The Treasury hit its debt limit -- most recently set by Congress at $14.29 trillion -- on May 16, but is using "extraordinary measures" to avoid a U.S. default for now. Treasury Secretary Timothy Geithner warned that failing to raise the debt ceiling would be disastrous to the economy, telling Sen. Michael Bennet (D-Colo.) in a May 13 letter that rapidly reducing federal outlays in the event of default "would likely push us into a double dip recession."
Although lawmakers could vote to raise the debt ceiling without preconditions, many members of Congress have said they will not approve an increase to the federal borrowing limit unless there is a longterm plan to deal with the debt.
Lawmakers are currently looking to build off of bipartisan talks led by Vice President Joe Biden, which fell apart in June over the issue of tax increases in a final deal. Those talks had reached agreement on about $2.4 trillion in cuts, which House Republicans have said they would now be willing to accept rather than a "grand bargain" that saves about $4 trillion.
In addition to major spending cuts, the House GOP has also pushed for major changes to Medicare -- including those laid out in Rep. Paul Ryan's (R-Wis.) 2012 budget proposal -- to be as part of a final debt ceiling deal. Although Senate Majority Leader Harry Reid (D-Nev.) said in June that Medicare cuts are off the table, Democrats have since signaled they would allow for some changes to the retirement insurance program, provided they be on the delivery-side as opposed to the beneficiary side.
House Speaker John Boehner (R-Ohio) has said the lower chamber will not approve a bill that includes tax increases, a option that Democrats have insisted should be on the table. Democratic leadership is pushing for an end to subsidies and tax preferences for major oil and gas companies and individuals that make more than $500,000 per year.
Check back here for the latest developments.
House Minority Leader Nancy Pelosi (D-Calif.) praised Democratic lawmakers for bringing the country "back from the brink of default" and said now is the time to shift attention to jobs.
"We just completed a very lively leadership meeting of the House Democrats, where we talked about ... the necessity of Democrats to save the day yesterday, pulling our country back from the brink of default," Pelosi said during a Tuesday press conference.
"It was a bitter pill for us to swallow, but we did," Pelosi said of the final debt deal. "And as we did, we saved Medicare, Medicaid and Social Security."
With that bridge crossed, the next step is refocusing Congress on job creation, she said.
"Jobs, jobs, job, jobs, jobs. You cannot say it enough," Pelosi said. "I really liked what Willie Nelson said, or at least he was quoted as saying -- the American people are more concerned about a ceiling over their head than raising the debt ceiling. We know we need to do both."
The Minority Leader ducked questions about when she would announce her picks for the newly created "Super Congress," a 12-member panel of lawmakers who will decide where to make up to $1.5 trillion in spending cuts. Pelosi also wouldn't say if she will require her picks to insist on new revenues in addition to cuts. The goal, she said, is to strike a balance in cuts and spending while preserving entitlement benefits.
"Whoever is at that table will be someone who will fight to protect those benefits," she said.
-- Jennifer Bendery
What happens if the U.S. defaults? See the slideshow below.
The Stock Market Takes A Dive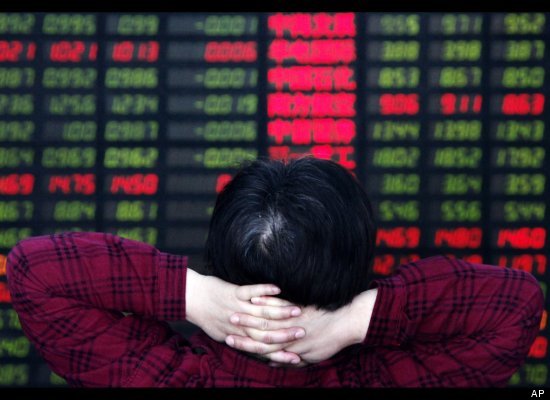 jimmylutherking

said on 22 Friday 2011 pm31 6:18 pm:


Republicans want to see country go down in flames.
Total comments:
19116
|
Post a Comment
Subscribe to the HuffPost Hill newsletter!