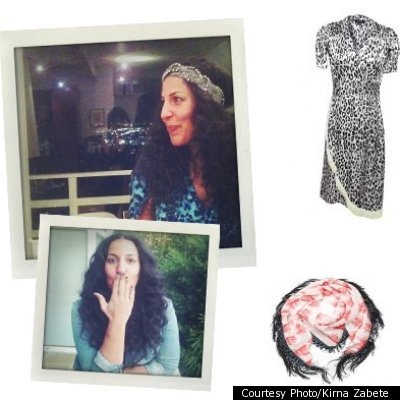 Irini Arakas started her accessories line Prova when she was still a writer for Vogue and ever since then has constantly been cultivating a wildly successful design career for herself. Though Prova started out mainly as a jewelry company, the label has expanded since 2005 - Irini's boldly printed fringed scarves have become must have items for the front row V.I.P at fashion week and this past February, she launched a spunky line of dresses with silhouettes inspired by the 40's and detailing from the disco days of the 70's.
While we're all definitely familiar with Prova and the label's gorgeously eccentric prints (Irini counts Michelle Obama and her friend/stylist Ikram as huge fans), today we got the chance to get to know a little bit more about the designer herself. Check out our Q&A with Irini below to find out why she's one of the coolest chicks in fashion right now.
What is your guilty pleasure music?
PINK. Love her, actually feel very little guilt about it.
If you could only shop in one store for the rest of your life what would it be?
Two-way tie: Bergdorf Goodman and Ikram.
If you were a DJ what would your stage name be?
Rini Rocket.
If you could be any literary character who would you be?
Jason Bourne on the weekends, Elinor Dashwood in Sense and Sensibility, during the week.
If you could have one super power what would it be?
Breathing under water.
Who is your ideal stylist or shopping buddy from history?
My mother.
What's one thing few people know about you?
I whistle while I work.
What are you currently reading?
I just finished reading Freedom and now on to Cleopatra's biography.
What's the last thing you bought that you loved?
A Junya Watanabe pink and gold embroidered blazer, very Coco Chanel meets Nicki Minaj.
What was your first designer purchase?
When I was working at New York Magazine as a fashion assistant, I went to the News Showroom Sample sale and I bought a Clemens Ribiero "eyelash" dress, made entirely of fringed lace. I still have it and wear it all these years later.
What item do you wear every day?
A tangle of gold charm necklaces by Ten Thousand Things.
Where is your ideal summer destination?
Tarifa, Spain.
Would you rather.... Midnight in Paris or Midnight in NY?
Oohhh, too tough a call! How about Midinight in Beirut?
What was your first job/internship?
My first internship was organizing the fashion closet at Marie Claire.
What's your signature scent?
Vol De Nuit by Guerlain.
Any rules to dress by?
The less rules the better!
Trends you hope die?
I have an allergic reaction to long denim skirts.
Mojito or Margarita?
Margarita.
Kindle or book?
BOOK.
What is in your handbag?
Right now, a cherry flavored blow pop, Joe Malone Vitamin E lip balm, Commes Des Garcons wallet, checkbook, Nars nail polish in Schiap and a bar receipt from the Ear Inn.
First passport stamp?
Athens, Greece.
Favorite accessory?
My grandmother's aquamarine ring and my "Irini" door knocker earrings.
SUBSCRIBE TO & FOLLOW LIFESTYLE
We're basically your best friend… with better taste. Learn more