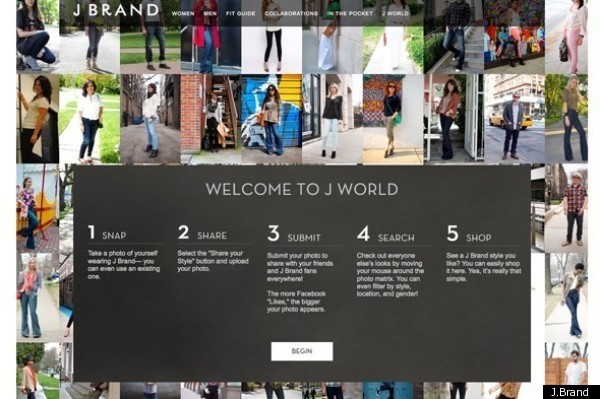 Yesterday, J.Brand officially re-launched their website and entered into the competition between big fashion brands for who's got the best and most tech-savvy site of all.
Shopping for the perfect new jeans with just the right fit and wash online can be a little tough, but J.Brand's made everything a lot easier, and a lot more fun. In addition to their already established ecommerce page, J.Brand's now offering up three new ways for the customer to interact.
The first is called "Style Notes," a section of the new site where a pair of the season's most popular denim is spotlighted and styled in different ways by guest editors and stylists like Brad Goreski. Users of the site will be able to buy these expertly styled looks and share them via social media.
We're particularly excited about the section called, "In The Pocket." Here, visitors will be able to check out behind the scenes footage from insiders at the brand, as well as learn more about the overall culture of the company. There will also be news content and contributing blogger posts as well.
And in case you aren't Brad Goreski or a popular style blogger, there's still room for you to contribute to J.Brand's new content. "J World" is a section of the site dedicated to user-created content where fans and customers can upload photos of themselves wearing J.Brand styles and share it, via collage, to the whole world (think Burberry's "Art of The Trench" that came out last year).
So like we said before, it's an exciting time for J.Brand, but they're one of many fashion forward-thinking labels that have finally decided to get into digital marketing. Within the last few months, designers like Rag & Bone, DVF, Tory Burch and Dolce and Gabbana have launched new versions of their own sites and blogs in hopes of being the biggest and baddest social media masters in the game.
It took the fashion crowd quite a while to stop being afraid of the Internet and start using it to their advantage, especially those in the realm of Prada and Louis Vuitton, but we've got to say that it's an exciting time to be clicking through these stylish sites.