Artist and founding arts editor of The Huffington Post Kimberly Brooks talks about her crimson shade of purple. Combining her curatorial eye as an editor with her perfectionist sensibility as an artist, contemporary painter Kimberly Brooks's lush portraits bedazzled us from the moment we first laid eyes on them. Scroll down for our quick Q&A about her favorite shade of purple--used in the below detail of a painting of actress Chloe Sevigny (Big Love)--and her grandfather.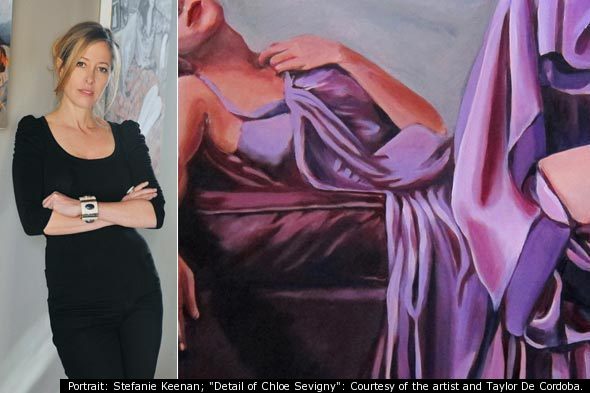 1. Do you have a favorite shade of purple?
I prefer the darker red purple, bordering on plum or grape.
2. What comes to mind when you think of this shade of purple?
I love concord grapes, they remind me of my late grandfather, Herman Lewis, Jr. who lived in an insane house on a cliff in Malibu overlooking the ocean. In the kitchen, he put a steel pyramid over the fruit bowl because he said it made the fruit stay ripe longer from the energy. In addition to bananas, there were concord grapes. I had never tried concord grapes except for at his house. I loved to bite the bitter skin off with my teeth and then gum the sweet nubby inside on the roof of my mouth and then spit out the seeds in the crystal ashtrays which were everywhere.
3. Do you have a favorite item that is in this purple you're describing?
I have a detail of a painting I just did of Chloe Sevigny for my last exhibition called "The Stylist Project." I can't show the whole thing...YET. But it has a lot of purple. I love mixing french ultramarine blue with alizarian crimson red to get a dark transluscent shade of purple.
4. How do you see this shade of purple used in a home?
Purple is a very glamorous color in a room when mixed with neutral colors.
5. What are three colors that would go well with this shade of purple?
Grey, sand, white, black, palest yellow, and deep plum.
6. If you could give your shade of purple a name, what would it be?
Malibu Concord.
Kimberly's next show opens this September in Los Angeles at Taylor De Cordoba gallery. Want an invite? Shoot her an email at kimberlybrooks.com.
FOLLOW HUFFPOST