The Mulholland Bridge demolition is completed ahead of schedule, reports the Associated Press. That's why officials have just announced that the 405 freeway will now be opening much earlier than expected -- ABC 7 reports in a tweet that Caltrans and CHP plan to re-open the 405 freeway between 11am and 3pm today.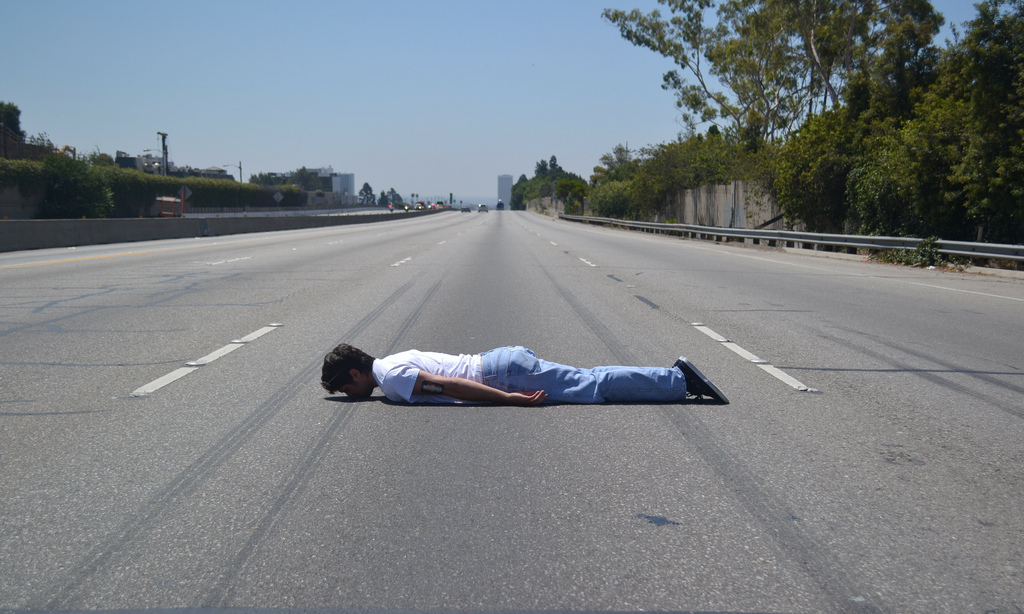 Photo by Donna Estes Antebi, courtesy of Stephen Estes (Flickr).
23 year-old Stephen Alan Estes was one of the first Angelenos to get back onto the 405 freeway when it re-opened this morning. Driving with his mother, Estes popped out of the car, laid down on the highway in the "planking" position, and got this picture on the 405 freeway near the Sunset on-ramp.
His flickr account explains, "I just planked LA's 405 freeway between Sunset and Wilshire during the last minutes of Carmageddon! Police were roaring up the other side of the freeway, and I just slapped a Vitagasm patch on my arm and went for it. Such an opportunity might not come again for years!"
Estes told the LA Times, "I guess I'm going to have to top this one. I guess I'll have to find the next Carmageddon." But Estes is looking beyond next year, when the second half of the bridge is set to be demolished. "It won't be unique then. This is my official debut."
Planking is the act of lying face down in a public place, optimally somewhere that no one has ever "planked" before. And of course, as with all great feats, pics or it didn't happen. Check out this video of planking all over Los Angeles landmarks and help Estes come up with his next location!