Sony Pictures Entertainment's Culver City studio will soon be somewhere over the rainbow, thanks to a new sculpture by Tony Tasset.
The work will be a nine-story-high, 188-foot-long, metal rainbow sculpture, reports the Culver City Times. The structure will be installed near the studio's Madison Avenue entrance.
Rendering by Tony Tasset, courtesy of Sony Studios. Story continues below.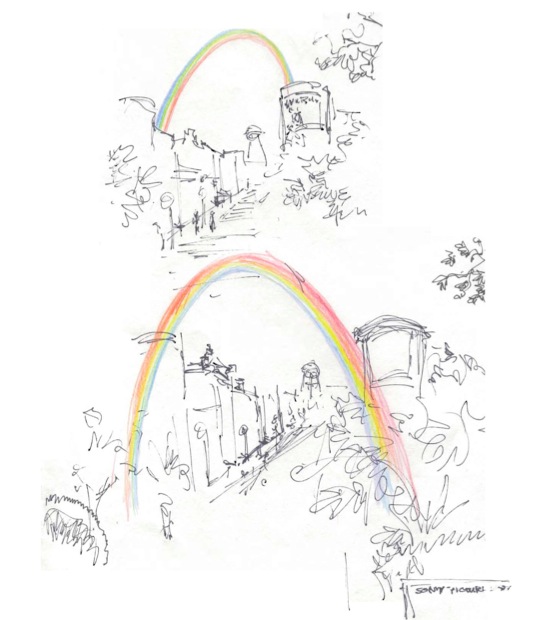 In a press release from Sony Studios, Tasset says that "this project presented a tremendous opportunity to connect present and past. A rainbow provided a bridge both physically—arching across a section of the lot – and symbolically through its connection to specific films like 'The Wizard of Oz,' shot on the lot, and to light itself."
The Culver City Times notes that besides honoring its history and brightening up the area, Sony will be fulfilling a legal requirement. Culver City has an "Art in Public Places" requirement, which dictates that one percent of the budget for new building developments valued over $500,000, and remodeling projects valued over $250,000, be devoted to a public art component.
The Culver City Cultural Affairs Commission unanimously approved the plan back in May, reports Curbed LA. The project, which is set to be finished in spring of 2012, has a total budget of $1,536,516.
Tasset is a multimedia artist who has exhibitions in Chicago, New York, LA, London, and other cities. His work ranges from photography to bronze sculpture to film. Some of his better-known projects include a giant Paul Bunyan statue outside of Chicago, and a giant eye on the city's State Street.