Cathy Caton, Missing Windsurfer, Rescued In San Francisco Bay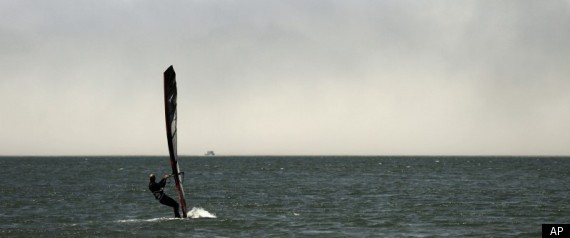 A windsurfer who disappeared into the San Francisco Bay early Monday evening was safely rescued after nearly 13 hours in the water.
A U.S. Coast Guard helicopter spotted Los Altos resident Cathy Caton, 62, near the San Mateo Bridge in the water by Foster City shortly after 6 a.m. Tuesday.
Caton's husband, Steve Hamman, called 911 after after his wife didn't return home for two hours, KTVU reported. Although Caton has 20 years experience windsurfing, Hamman grew worried that the chemotherapy treatment she's currently undergoing may have weakened her.
Hamman told SFGate that "a mishap with her gear" contributed to the accident:
But the conditions for her survival were favorable. It wasn't particularly cold, and Caton was "dressed for the cold. She had a wetsuit and boots, gloves, a hat and a flotation device, so all that helps," Hamman said.

He added, "She has a lot of stamina."
Caton was taken to San Francisco General Hospital. The Coast Guard deemed her condition "stable," according to KTVU.
"She's doing pretty well," Hamman told SFGate. "She's cold, but otherwise looks alert and is doing OK."