Charlie Sheen's ex-goddess, Bree Olson, is revealing almost everything in the current issue of Playboy. However, she tells me that when it comes to posing naked, it's Sheen who should be revealing all!

"Charlie should definitely do the cover of Playgirl. That would be hot," Olson tells me, confessing that her ex has the equipment to pull it off.

And although Olson, who still keeps in touch with Sheen, hasn't personally sent her ex a copy of the issue, she's sure he's seen it -- and is enjoying it.

"I'm sure many people have sent Charlie a copy," Olson told me. "I'm so happy with this cover. It's like a dream come true for me. I've always looked at Playboy since I was younger. I thought, man, I hope I look like that when I grow up. And then I show up in the magazine and I'm like this is so cool."

Bree couldn't believe she had been offered the iconic cover until she finally saw it on newsstands. But now that she's the apple of every Playboy reader's eye, she's already looking forward to cornering a new market.

"Now I'm trying the mainstream acting route," Olson tells me. "I'm trying to get past how all this feels and I'm just going to go out there and do it. I'm going to go to auditions like everyone else. I want to be on a series or the main character [in] a movie. If they say aren't you so and so, I'm going to be like, nah."

Olson tells me she would even love to have a part in "Two and a Half Men" (even though she admits she's never even seen one episode), but will be watching Sheen's roast and not Ashton Kutcher's debut episode -- the two shows are going head-to-head on September 19.

And although she may be on to bigger and better things since her split from the maniacal 'MaSheen,' that doesn't mean she'd never go back to him.
"Never say never. I miss him but I don't miss all those people around him," she said.
FOLLOW NAUGHTY NICE ROB ON TWITTER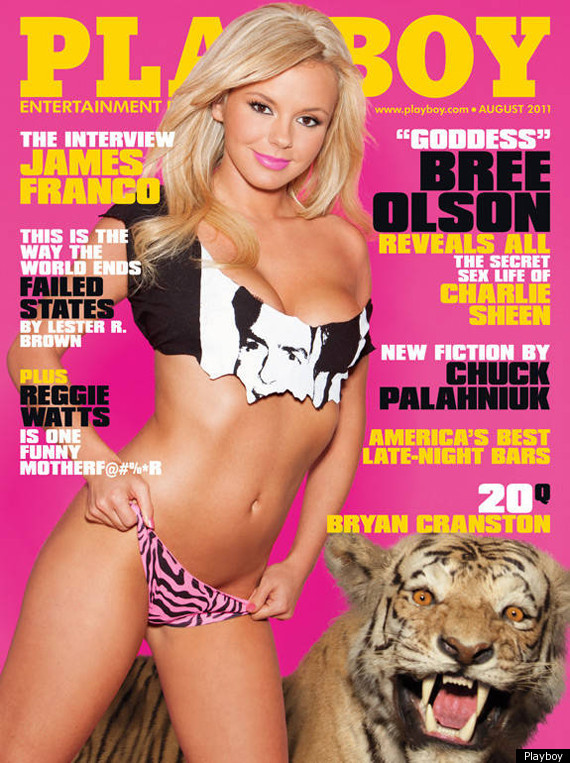 SUBSCRIBE AND FOLLOW
Get top stories and blog posts emailed to me each day. Newsletters may offer personalized content or advertisements.
Learn more