Water Parks In Michigan: A Huffington Post Travel Guide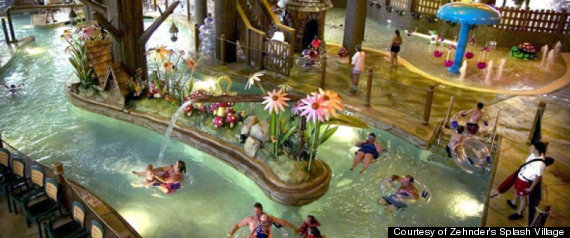 Water parks in Michigan, especially those indoors, are an ideal break for the snow-weary. As part of a Huffington Post Travel series on family-fun parks, here is our guide to all the key information visitors need to know about Michigan water parks.
Zehnder's Splash Village
Beyond the exciting rides at Splash Village, Frankenmuth is a German village in Michigan and a stop for a good chicken dinner when traveling north in the state. The quaint Bavarian village shops, famous fried chicken dinners and glockenspiel all add to the family atmosphere surrounding
Splash Village
and its 30,000 square feet of fun.
The Perilous Plunge
The Perilous Plunge is a four-story descent in the hotel-provided inner tubes. For the less adventurous, Splash Village has Crooked Brook Creek, a relaxing lazy river ride.
Christmas Shopping
Zehnder's Splash Village is the largest water park in mid-Michigan and offers families a chance to enjoy the water together, year round. Families looking to take a break from the chlorine can dry off and head next door to
Bronner's
, the world's largest Christmas store.
Dining Options
The water park is located inside Zehnder's hotel and has access to many dining options from sit-down dinners -- they are especially famous for their chicken dinners -- to pizza slices and kid-friendly fare. Food is not allowed in the pool area.
Safety Record
Our research revealed no notable news reports of accidents or safety issues at Zehnder's Splash Village.

Address: 730 S. Main St., Frankenmuth, MI 48734
Phone: 800-863-7999
Hours: Sunday through Thursday, 9 a.m. to 9 p.m.; Friday and Saturday 9 a.m. to 10 p.m. Hours may vary due to special events; please check with facility or online schedule
Price: Half-day passes are available for $25, and full-day passes are $32, regardless of age. Guests of the hotel enjoy the park for free
Avalanche Bay
The Largest Indoor Park In Michigan
Avalanche Bay
is simply enormous. At 88,000 square feet, it boasts the honor of being Michigan's largest indoor water park. Boyne Mountain Resort has a reputation of doing everything top-notch, and this water park is no exception.
Rip Zone
Rip Zone
is a favorite at this park. It allows guests to experience the thrill of surfing an ocean wave. Be prepared for lines, but it is worth the wait. They also have a rock climbing wall with rushing water.
Winter Theme
Avalanche Bay is a winter-themed water park with activities for everyone in the family. When you need a break from all the water fun, you can stop by the
arcade
or any of the other Boyne Mountain Resort facilities.
The Snack Shack And The Apres Pub
Avalanche Bay resort has two dining options within the water park itself. The Snack Shack offers kid-friendly snacks, while the Apres Pub offers upscale pub food and alcoholic beverages.
Safety Record
Our research revealed no notable news reports of accidents or safety issues at Avalanche Bay.

Address 1 Boyne Mountain Road, Boyne Falls, MI 49713
Phone: 231-549-7979 or 800-GO-BOYNE
Hours: Monday through Thursday, 10 a.m. to 10 p.m.; Friday through Sunday, 9 a.m. to 10 p.m.
Price: Weekdays: $25 full day, $19 half day. Weekends: $39 full day ($35 hotel guests), $29 half day ($25 hotel guests). $59 for a two-day pass ($55 for hotel guests). $79 for a 5-day pass ($75 hotel guests). Avalanche Bay does have an online printable coupon for $3 off
Other Noteworthy Parks Near Michigan
Splash Universe
Michigan's Adventure
Surfari Joe's
Double JJ Resort
Great Wolf Lodge

Have you been to a water park in Michigan?
Check out more WATER PARKS.