The visual element of this effort from OK Go is all about footwork, as the band dons tight bodysuits and dances on clear glass screens, making for some neat kaleidoscopic effects with the soles of their bare feet. But the main draw of the band's new music video is interactivity, as the watcher is able to enter a personal message into a text bar on the video's homepage before the video begins.
In All is Not Lost — an HTML5 music collaboration between the band OK Go, the dance troupe and choreographers Pilobolus, and Google—you can embed your message in a music video and have the band dance it out. The band and Pilobolus dancers are filmed through a clear floor, making increasingly complex shapes and eventually words—and messages you can write yourself.

All is Not Lost is built in HTML5 with the browser Google Chrome in mind. Different shots are rendered in different browser windows that move, re-size and re-align throughout the piece. With HTML5's canvas technology, these videos are drawn in perfect timing with the music.
Indeed. Utilizing the HTML5 capability in Chrome, "All Is Not Lost" is a very different music video. (HTML5 is a new programming language for presenting interactive content on the web.)
First, clicking "Play" opens up multiple new Chrome windows, and the choreographed action takes place across a constantly moving and shifting array of boxes on your desktop. Pretty neat and disorienting to watch.
Second is that interactive feature. That message you type into the text bar before the beginning of the video is spelled out many times at the end of the video by different views of the band's feet from below. OK Go pre-recorded themselves spelling out all of the letters of the English alphabet, the numbers 0-9, several common punctuation marks, and even Japanese katakana (which Wikipedia tells me is mostly used to spell out foreign and loan words, and which Hirayama suggests should best be used to send "a message of support to the Japanese people in this difficult time").
To give some idea of what this looks like, here's a simple message I spelled out with the band's feet: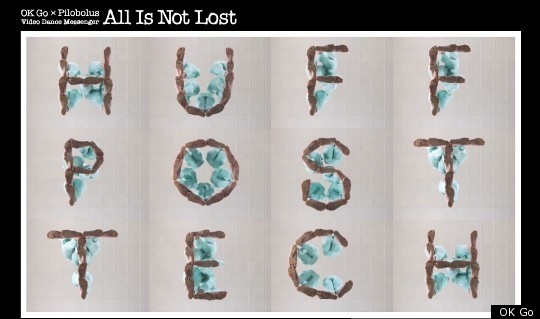 This is not the first use of HTML5 and Google Chrome on an interactive music video. Grammy-winning indie rocker's Arcade Fire used Google Earth and your childhood address to send you back home in their video for "We Used to Wait" in September 2010. But OK Go, the insta-viral video band, may just launch HTML5 into popular consciousness.
SUBSCRIBE TO & FOLLOW THE MORNING EMAIL
The Morning Email helps you start your workday with everything you need to know: breaking news, entertainment and a dash of fun. Learn more