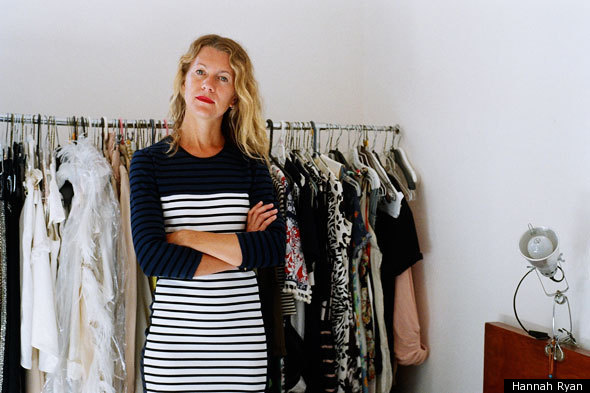 Closet Case is a new column in which we invade the wardrobes of our real life style icons. Here fashion consultant, blogger and model casting agent Natalie Joos let us in to her light filled Williamsburg apartment to see her envy inducing closet. Or should we say closets. In addition to Natalie's sizable bedroom wardrobe filled with shoes, clothes and accessories, she also has a rolling rack full of a vintage and designer dresses. Fashion is everywhere: Polaroids of famous friends like model Hannelore Knuts that date back to the 2000 ("I don't take them as much anymore because they are so expensive now!") line the walls of her closet, an archive of style magazines (i-D, W, Vogue and The Face) fill a second bedroom and bags from Lanvin, Celine and more sit atop her bookshelves. In addition to showing us the Miu Miu dress she wore on a date last week (with painfully uncomfortable heels), her Old Navy flip flops and what she was bringing on an upcoming trip to Mexico ("obviously my Celine clogs, I could wear those everyday!"), Natalie gave us some insider tips and lots of eye candy:
How do you organize your closet?
I am hopelessly OCD so everything has a system. My dresses are on one large rolling rack and all color coordinated. I start with black, then beige, then white, solid colors, florals, stripes and I end with onesies. I also have a coat closet, where I keep hats, bags and scarves. I have another closet with hanging skirts, shirts, pants and cardigans. I keep all of my T-shirts, tank tops and sweaters folded. I have a large storage closet in Queens where I keep my winter stuff during the summer. I store all my sweaters in plastic bags with cedar blocks during the summer. I hate moths - they give me the willies. I keep my furs and Vogue Italias there as well. It is only a ten minute bike ride away!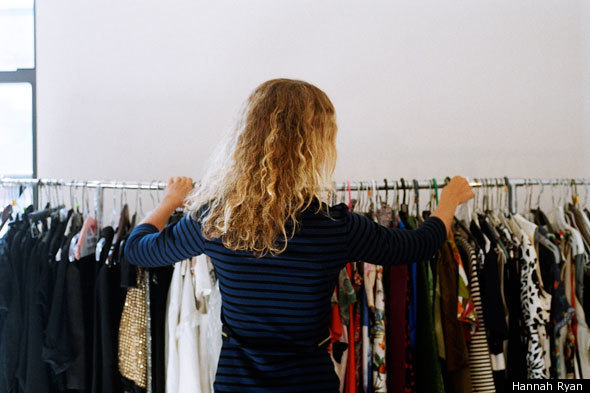 What is one thing you wear every day?
I have 2 piercings in my left ear. One is silver with a gold closure and the other is gold with a silver closure. I can't take them off. Other than that, I don't really wear jewelry.
How long does it take to get dressed in the morning?
Depends. Usually not more than 15 minutes. The outfit starts with my hair. If I washed it, it will be down and long and curly. If I didn't (the next day) it will be in a pony tail or chignon. Some outfits don't work with loose hair, so I have to take that into account. Does that make sense? Then I choose 1 key piece and build the rest around that.
What do you own that you will never throw away, but never wear again?
My jeans from when I was 16. They were so hot and new and tight at the time. I was a real forerunner with these. Only one other girl in Ghent wore jeans like mine. I still fit them but they're not so hot anymore.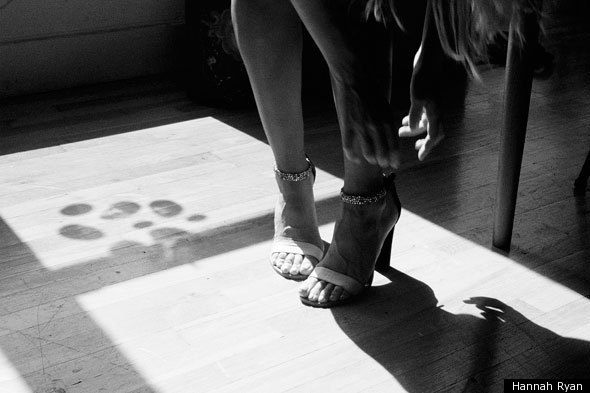 What is your most recent purchase?
My cobalt Saffiano Prada bag and red Saffiano Prada wallet. I am in love.
Who is your ideal shopping buddy?
I love shopping on my own. I make better decisions on my own. I have only my own voice to listen to. I can reason in my own head and talk myself in or out of any purchase. When I shop w other people I tend to buy too much. I wish I had someone who would buy stuff FOR me, as in paying for it. Wouldn't that would be everyone's ideal shopping buddy?
Three adjectives to describe your style?
Cute, sexy, fun.
Take a peek in our gallery below for more photos of Natalie's favorite pants, sparkly footwear and go-to summer dress:
SUBSCRIBE TO & FOLLOW LIFESTYLE
HuffPost Lifestyle is a daily newsletter that will make you happier and healthier — one email at a time. Learn more