Family vacations in Alaska can be rewarding experiences or absolute disasters -- it all depends on pretrip homework. To make planning easier, we've done all the preparation. As part of a Huffington Post Travel series on traveling with children, here are recommended attractions for those planning Alaska family vacations.
Begich, Boggs Visitor Center At Portage Glacier
Begich, Boggs Visitor Center at Portage Glacier
is a natural attraction that offers an interactive and educational visitor center. Hiking trails afford the opportunity to view the glacier and numerous icebergs floating around the lake. After guests experience the cold weather outside, they can warm up with hot concessions.
Address: Mile 5.5 Portage Glacier Road, Girdwood, AK 99587
Phone: 907-783-2326
Hours: Open daily May 27 through Sept. 2, 9 a.m. to 6 p.m. Open Saturday and Sunday only, Sept. 3 through May 26, 10 a.m. to 4 p.m.
Price: Adults, $5; free for children 15 and younger
Pioneer Park
Pioneer Park
is Alaska's only historical amusement park. There are musuems, art galleries, restaraunts, shops and other attractions for all members of the family. Also a carousel, bear habitat and theater are available for the little ones.
Address: 2300 Airport Way, Fairbanks, AK 99701-4014
Phone: 907-459-1087
Hours: Monday through Friday, year-round
Price: Free to get into the park. Prices for attractions vary, ranging from free to $30
Prince William Sound And Resurrection Bay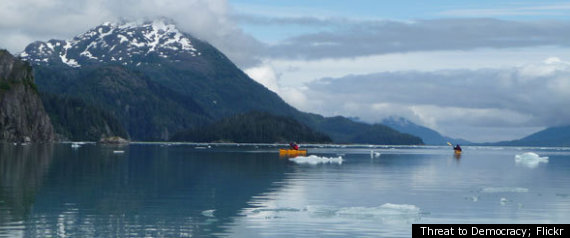 Prince William Sound and Resurrection Bay is home to a multitude of activities and wonder. The park is surrounded by habitats and an ecosystem that provides refuge to a diverse abundance of wildlife. Surrounded by mountians and glaciers, this area is a perfect place for fishing or beachcombing. The unspoiled beauty is unlike any other in the United States, as its diversity in habitat creates a paridise for all those who step foot there.
Address: Kenai/PWS Area Office, PO Box 1247, Soldotna, AK 99669
Phone: 907-262-5581
Hours: 24 hours a day, year-round
Price: Daily parking pass, $40; boat launch pass, $75
Imaginarium Discovery Center
Located inside the Anchorage Musuem, the
Imaginarium Discovery Center
is an interactive center that brings science to your fingertips. With more than 80 exhibits, the center will electrify you with its exciting displays.
Address: 625 C St., Anchorage, AK 99501
Phone: 907-929-9200
Hours: Mid-September through mid-May: 10 a.m. to 6 p.m. Tuesday to Saturday Noon to 6 p.m. Sunday 10 a.m. to 9 p.m. Thursday Closed Monday Mid-May through mid-September: 9 a.m. to 6 p.m. daily
Price: Adults, $12; seniors (65 and older), $9; students (13 and older), $9; military, $9; children (3-12), $7
Alaska Zoo
Including animals and species of the Arctic and sub-Arctic regions, the
Alaska Zoo
is home to more than 75 animals. The zoo plays a proactive part of the surrounding environment and allows every visitor to embrace that philosophy. Conservation and environmental awareness are highlighted issues at the Alaska Zoo, with involvement in research and a husbandry on grounds.
Address: 4731 Omalley Road, Anchorage, AK 99507-6573
Phone: 907-346-3242
Hours: January, 10 a.m. to 4 p.m. daily February, 10 a.m. to 4:30 p.m. daily March through April, 10 a.m. to 5 p.m. daily May, 9 a.m. to 6 p.m. daily June through August, 9 a.m. to 6 p.m. daily; extended hours to 9 p.m. on Tuesdays and Fridays Sept. 1-14, 9 a.m. to 6 p.m. daily Sept. 15-Oct. 31, 10 a.m. to 5 p.m. daily November, 10 a.m. to 4:30 p.m. daily December, 10 a.m. to 4 p.m. daily Closed Thanksgiving and Christmas
Price: Adults, $12; seniors (65 and older), $9; military, $9; children (3-17), $6; two years and under, free
Alaska Summer Solstice Festivals
The longest day of the year is June 21, and the Alaska Summer Solice Festivals celebrate the beginning of summer. Located throughout Alaska, the festivals celebrate with music, dancing, food and shopping. Some festivals last two to three days, while others last only one. The sun slowly moving across the sun is both the perfect end or start to your family vacation in Alaska.
Address: Throughout Alaska
Phone: N/A
Hours: Every June 21st
Price: Price varies, depending on activity and location
What are your favorite family vacation spots to visit in Alaska?
Check out more FAMILY TRAVEL GUIDES.