Family vacations in Florida can be rewarding experiences or absolute disasters -- it all depends on pretrip homework. To make planning easier, we've done all the preparation. As part of a Huffington Post Travel series on traveling with children, here are recommended attractions for those planning Florida family vacations.
Walt Disney World Resort
The
Walt Disney World Resort
should be on any Florida traveler's "must see" list. The park is more than a fairy-tale land packed with Disney characters and roller coasters. It features award-winning championship golf courses, live entertainment like Cirque du Soleil, luxury spas, loads of shopping and even water parks.
Address: West Buena Vista Dr., Orlando, FL 32830
Phone: 407-939-6244
Hours: Hours vary depending on the park and time of year. Typically, hours of operation are as follows: Epcot from 9 a.m. to 9 p.m.; Hollywood Studios from 9 a.m. to midnight; Animal Kingdom from 8 a.m. to 8 p.m.; Magic Kingdom from 9 a.m. to midnight; Blizzard Beach from 9 a.m. to 5 p.m.; Typhoon Lagoon from 9 a.m. to 5 p.m.
Price: Depending on the park, tickets range from $40 to $90 per day. Children's admissions are slightly cheaper and annual passes may be purchased for roughly $670.
Miami Children's Museum
Combine fun and learning at the
Miami Children's Museum
. This kid-friendly Florida museum features 14 permanent exhibits, including Everglades Park, Meet Miami, Ocean Odyssey and Castle of Dreams.
Address: 980 Macarthur Causeway, Miami, FL 33132
Phone: 305-373-5437
Hours: Open daily from 10 a.m. to 6 p.m., excluding Thanksgiving, Christmas and New Year's Day. Also closed at 4 p.m. on Christmas Eve and 5 p.m. on New Year's Eve.
Price: $15 per person; $12 for Florida residents
South Florida Science Museum
Located in West Palm Beach, the
South Florida Science Museum
provides excitement for both adults and children. Noteworthy exhibits and attractions include the planetarium, aquarium, radio station room and the Egypt gallery.
Address: 4801 Dreher Trail North, West Palm Beach, FL 33405
Phone: 561-832-1988
Hours: Open Monday through Friday from 10 a.m. to 5 p.m., Saturday from 10 a.m. to 6 p.m. and Sunday from noon to 6 p.m.
Price: General admission for ages 13 and up is $11.95. Admission for children from 3 to 12 is $8.95; seniors 62 and older pay $10.45. Members enjoy free admission.
Panama City Beach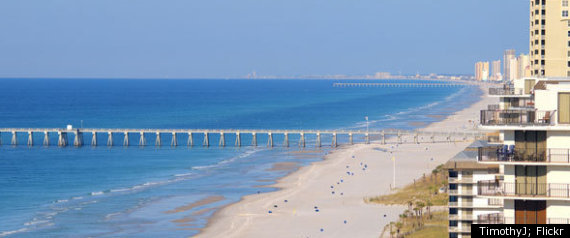 Florida's Panama City Beach offers plenty to do in addition to swimming in the ocean. Visitors can entertain themselves by visiting amusement parks, dancing, golfing, playing tennis and watching dolphins.
Address: Panama City, FL 32408
Phone: 850-233-5100
Hours: Panama City Beach is open 24/7 throughout the year to the public.
Price: Free admission
Wet 'N Wild Water Park
The
Wet 'N Wild water park
in Orlando is recognized as one of the top water parks in Florida and the nation. Guests can spend their day on thrill rides and roller coasters, floating along the "lazy river" or playing sports.
Address: 6200 International Dr., Orlando, FL 32819
Phone: 800-992-9453
Hours: Operating hours vary depending on time of year and are subject to change depending on weather conditions. Typically, the park is open throughout the year from 10 a.m. to 5 p.m. Call 407-351-1800 before your visit to check.
Price: General admission is $47.95 for ages 10 and up. Children under 3 are admitted free, admission for children 3 to 9 is $41.95. Seniors 60 and up pay $41.95.
Anheuser-Busch
While Florida is most renowned for its beaches and theme parks, visitors can enjoy other excursions, too. For example,
Anheuser-Busch
offers a complimentary tour that overlooks the famous Brew Hall and teaches guests about beer making.
Address: 111 Busch Dr., Jacksonville, FL 32218
Phone: 904-696-8373
Hours: Open 10 a.m. to 4 p.m. Monday through Saturday throughout the year.
Price: Free admission
Everglades National Park
This 1.5 million-acre Everglades National Park is the second largest in the United States after Yellowstone. Adventure seekers can stomp through south Florida's mushy bogs, enjoy an exciting river rafting or kayaking journey through the swamps, or hike within the park's verdant natural sanctuaries.
Address: 40001 State Route 9336, Homestead, FL 33034
Phone: 305-242-7700
Hours: Everglades National Park is open throughout the year. Hours vary depending on the entrance and time of year.
Price: $5 per adult and $10 per vehicle.
What's your favorite family-vacation destination in Florida?
Check out more FAMILY TRAVEL GUIDES.