Zac Efron doesn't need fancy equipment to work on his fitness. The 23-year-old star turned a playground into his gym during a break from filming "The Paperboy" in Mandeville, Louisiana.
He hit the monkey bars to tone his tummy, but kept an low profile keeping his trucker hat and aviator sunglasses on the entire time.
The former Disney darling is taking another step away from his dancing and singing days with this intense thriller, starring alongside Matthew McConaughey and Nicole Kidman.
PHOTOS: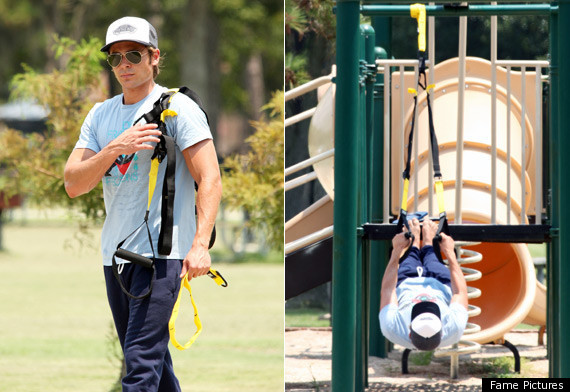 For more celebrities working out, check out the gallery below!
Mom-to-be actress January Jones is pretty in pink as she heads to her yoga class in Silver Lake, California on June 21st.

Julianne Hough works with a personal trainer to keep her physique under control on as she worked out on the rocks over looking a Miami, Florida beach.

Jake Gyllenhaal stays fit jogging through his neighborhood on May 29th.

Coldplay frontman, Chris Martin, goes for a jog near his home in London, England.

Josh Duhamel and Fergie break a sweat at Runyon Canyon on May 19th.

Julianne Hough hits the sand for a good workout on the beach, in Miami.

Jenni "JWOWW" Farley keeps working on her fitness as she goes for a jog in Seaside Heights, New Jersey on June 28th.

Adrian Grenier hits the pavement on May 10th. The 'Entourage' star goes for a run in Los Angeles.

Gerard Butler hits the water for some surfing in Malibu with friends over the weekend.

Emma Watson and her co-star in "The Perks of Being a Wallflower", Johnny Simmons, go for a walk in in a park in Pittsburgh.

Jon Bon Jovi hits the pavement as he goes for a jog in the morning heat in New York City.

Orlando Bloom is looking happy and healthy as he leaves a pilates class with a huge grin on June 20th.