DIY Warrior: How To Refurbish A Concrete Porch (PHOTOS)
BEFORE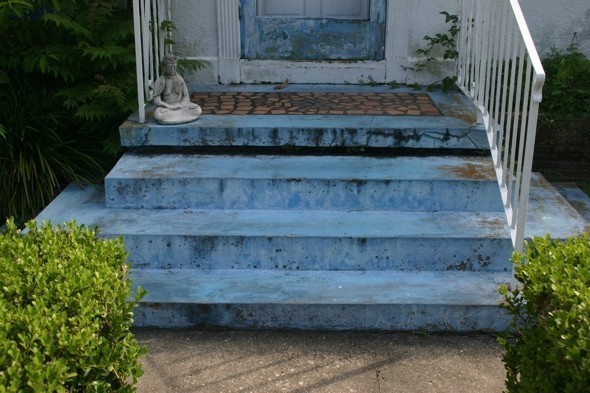 Kathy Price-Robinson
One day, when I wasn't looking, my once-charming front porch crossed over from shabby chic to utterly disgusting. I waited for the team from HGTV's Curb Appeal to ring my doorbell. When I realized they weren't coming, I decided to paint my own porch. I had a lot to contend with: Aside from the old paint being faded, weathered, and rusty, the concrete stairs themselves were full of deep cracks.
AFTER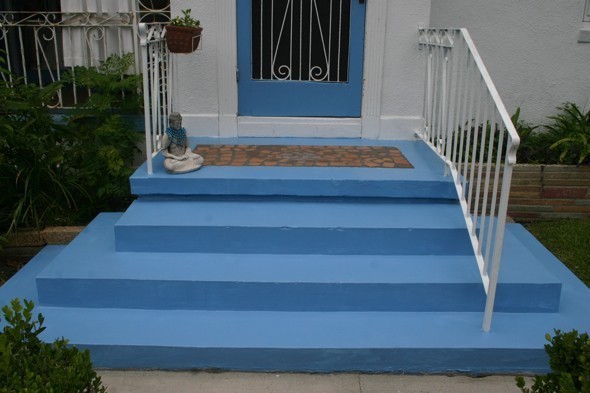 Kathy Price-Robinson
I picked a mild day with low humidity for this project. You'll get the best results if you paint on a cool, dry day with little wind -- even if you're painting indoors. Heat and humidity can cause paint to blister and dry unevenly.
Above is the result: a cleaner, brighter version of the old porch -- I even had the door repainted by a pro, who also replaced the screen. Doesn't it make a world of difference? Here's how I did it:
I collected my supplies: Cleaning bucket Rags (recycle some old T-shirts and towels) Scrub brush Gloves Concrete patch Metal brushes Putty knives Masking tape Kilz non-toxic primerBehr Porch & Floor Paint Rollers and brush TSP Cleaner (not shown)

From afar, it looks like just a faded old porch...

...But take a closer look and you'll see that my challenges were many. They included fading and damaged paint, cracked concrete...

...and rust stains. Plenty of 'em.

To get my paint tinted the right color, I peeled some blue paint off the inside of the screen door (it was coming right off anyway) and took it to the paint store. They wound up mixing up a gallon of Behr Porch & Floor Paint in a shade of periwinkle that was almost identical to the old color. During the project, as you'll see, the screen door also got refurbished, adding to the overall beauty of my newly painted porch.

I was lucky enough to have my gentleman dog Zeus to keep me company. Too bad he couldn't grab a brush and start scrubbing the porch. It really is a dog's life.

So it was up to me to clean and scrape the filthy concrete with scrub brushes and a putty knife. This was by far the most unpleasant part of the project. The buildup of dirt and debris was just too thick for me to completely remove by hand. I suggest sweeping and scrubbing as much as you can by hand, then grabbing a pressure washer to finish the job.

Once I'd removed as much of the debris as I could by hand, i took up my neighbor on her offer to lend me her pressure washer. I pressure washed the steps with a touch of bleach, and the results were miraculous. In fact, the porch looked so good compared to how it looked before that I considered leaving it like this. But I already had all those supplies gathered together, so I kept on going.

I knew I had to patch the cracks in the concrete. Some cracks on the corner were so big that I wondered if the corner might fall off. But the whole thing seemed solid as a rock. After letting it all dry thoroughly after the power wash, I began. I'd never used concrete patch before so let me tell you what it is: concrete. Yep, it's simply premixed wet concrete waiting to be used.

I did the best I could. I'm sure a professional mason would have done a much more artful job, but for my purposes and my personality, it was good enough. I also patched in around the metal porch posts to help prevent water from getting in there and causing even more rust.

Before the concrete dried, I brushed off the excess. Here's a tip: brush off the excess before the concrete dries because that stuff dries as hard as, well, concrete.

I masked off the rectangle of tile work on the top of the porch. I chose not to mask off around the house and near the sidewalk as I figured I'd just be careful. And it worked out great. No big sloppy messes.

Now came the fun part: applying the primer! It would be tempting to skip primer on a job like this. After all, the porch is being painted the same color, so it's not a matter of blocking a darker color for a light top coat. But my porch was extremely stained and I really wanted this paint job to last a long time. I know primer helps with durability. This is outdoors, in extreme sun and heat, and gets a lot of traffic. Plus, I wanted to try out the new non-toxic Kilz primer. That means there are no evaporating chemicals making a beeline for my lungs as I work. This was really a treat.

After the Kilz primer and stain blocker, the porch looked good enough to eat. It was time for paint!

After just one coat, my porch was stunningly beautiful. I really had no idea it could look so amazing and inviting.

When the whole thing was done, Zeus said: "Big wow. Now how about that walk?"