Obama Re-Election Campaign: Tell Us About Calls From Fundraisers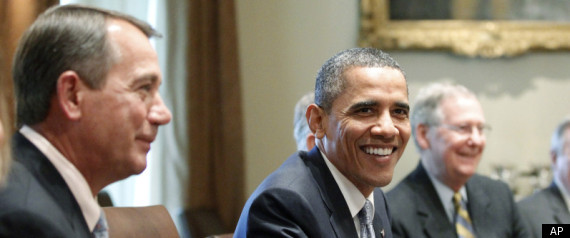 WASHINGTON – As President Barack Obama campaigns for re-election, he has to sell a controversial deal he endorsed to end the impasse over the debt ceiling to his supporters and donors.
During debt ceiling negotiations with Republicans, Obama floated the idea of means-testing Medicare and raising the age at which seniors could get universal coverage. He also floated cuts to Social Security.
Fundraisers working with Obama for America and other groups working toward the president's re-election are hitting the phones in full force, while trying to gloss over the deal that's upsetting many potential supporters. Perhaps you've noticed?
One former Obama donor told The Huffington Post she spoke to a fundraiser who assured her the president had been putting up a front in his negotiations with House Speaker John Boehner (R-Ohio) and "would certainly veto" any cuts to Social Security or Medicare coming out of Congress or the proposed "super Congress."
In this particular case, the fundraiser may have been a rogue agent. The donor didn't record the phone call, making details difficult to verify.
A DNC official said, "We have no idea what this is in reference to and is certainly not a script our staff or volunteers are working off of. Sounds like a conversation that got misconstrued or that someone was uninformed."
HuffPost readers: Have you had a conversation with any fundraisers for Obama or the Democrats talking about the debt ceiling deal? Let us know at electiontips@huffingtonpost.com and include a phone number if you're available for an interview.
We'd like to have examples of these calls if possible. If you have the means of recording fundraising calls, please do so and send them our way (but make sure it is legal in your state to do so).

If you want to be even more involved with our election coverage, please sign up here for OfftheBus, The Huffington Post's citizen journalism program.
Subscribe to the HuffPost Hill newsletter!