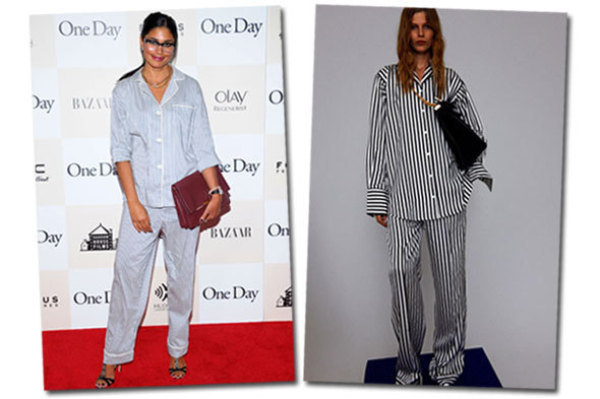 Last night, at the premiere of the Anne Hathaway and Jim Sturgess film, "One Day," we spotted Rachel Roy on the red carpet wearing pajamas. "Can someone who knows about fashion tell me if that is, like, a trend?" asked a reporter from a celebrity magazine standing nearby, "Yes," I answered, "Indeed it is." Although Rachel Roy was wearing pajamas that she purchased in the Hamptons, she was accurately channeling Celine's Resort 2012 collection. Fittingly, Roy paired her pajamas with an aubergiene Celine clutch and added sparkly Manolo Blahniks to dress up the look. "Finally! I have a place to wear these heels!" Roy explained. What do you think of Roy's Celine inspired do?
SUBSCRIBE AND FOLLOW
Get top stories and blog posts emailed to me each day. Newsletters may offer personalized content or advertisements.
Learn more