Water Parks In Tucson: A Huffington Post Travel Guide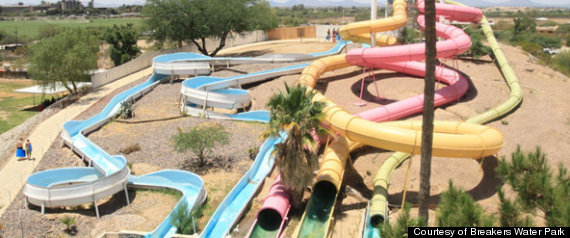 Water parks in Tucson offer the perfect cool-down on those scorching-hot, triple-digit summer days. Body surf in southern Arizona's largest wave pool or take a hair-raising ride down a water slide at one of Tucson's favorite water park attractions. As part of a Huffington Post Travel series on water parks, here is our guide to all the key information visitors need to know about Tucson water parks.
Breakers Water Park
Breakers Water Park
is Tucson's water park destination for family fun under the sun. The park features Breakers Bay, Southern Arizona's largest wave pool, and the popular Bonzai Pipeline.
The Riptide
The
Riptide
, the tallest water slide at Breakers Water Park, sends guests careening downhill at top speed before splashing down in the pool. This is an exhilarating and unforgettable ride, but definitely not for the faint of heart.
Super Slides And Giant Bubbles
The
Bonzai Pipeline
features five super slides with hairpin turns. The park's popular
Surfari Bubbles
- large plastic sphere enclosures - invite guests to test their agility and balance as they attempt to roll the bubble in the water pool.
Quick Bites
Breakers Water Park offers a variety of fast food fare, including pizza, hamburgers, french fries, hot dogs, nachos, soft pretzels and more. There are two snack bars inside the park.
Safety Record
Our research revealed no notable news reports of accidents or safety issues at Breakers Water Park.

Address: 8555 W. Tangerine Rd., Marana, AZ 85658
Phone: 520-682-2304
Hours: May through September, 10 a.m. to 6 p.m. Tuesday through Sunday.
Price: $20.95 for guests 12 ages and up, $14.95 for children 4 to 11, $10.95 for seniors
Desert Springs Oasis at the Hilton Tucson El Conquistador
Desert Springs Oasis
is a luxurious water park situated inside the
Hilton Tucson El Conquistador
resort. The park features a 143-foot water slide, fish-shaped children's pool, hot springs and waterfall.
Sliderock
The popular
Sliderock
water slide curves around rock gardens before emptying into the pristine pool area. The 143-foot water slide moves fast, giving guests a rush as they twist and pivot down the roomy chute.
Childs Play
Shallow Springs
, the children's fish-shaped pool at Desert Springs Oasis, features play areas and interactive water features inside the tail of the fish. This small-guests-only water park also features a relaxing hot springs and a cold plunge fed by a custom waterfall.
Poolside Dining
Desert Springs Oasis offers casual poolside dining options. The Hilton Tucson El Conquistador also offers several other on-site dining areas for guests and visitors, including the Sundance Cafe and La Vista Cafe.
Safety Record
Our research revealed no notable news reports of accidents or safety issues at Desert Springs Oasis.

Address: 10000 N. Oracle Rd., Tucson, AZ 85704
Phone: 520-544-5000
Hours: Open daily during normal pool hours.
Price: Desert Springs Oasis is a guests-only water park located inside the Hilton Tucson El Conquistador. Rates vary.
Other Noteworthy Parks Near The Midwest
Big Surf Water Park
Wet 'n' Wild Phoenix
Golfland Sunsplash
The Cove at the Sierra Vista Aquatic Center
Salt River Tubing

What's your favorite Tucson water park?
Check out more WATER PARKS.