Family vacations in St. Louis can be rewarding experiences or absolute disasters -- it all depends on pre-trip homework. To make planning easier, we've done all the preparation. As part of a Huffington Post Travel series on traveling with children, here are recommended attractions for those planning St. Louis family vacations.
Gateway Arch
The symbol of St. Louis, the 630-foot
Gateway Arch
commemorates America's expansion to the west. The Arch, located on the west bank of the Mississippi River, opened in 1967 and is the tallest man-made monument in the United States. Visitors can take a specially designed tram to the sightseeing point at the top of the arch. On a clear day, visitors can look out 30 miles away.
Address: 100 Washington Ave., St. Louis, MO 63102
Phone: 877-982-1410
Hours: Labor Day to Memorial Day, 9:20 a.m. to 5:10 p.m.; Memorial Day to Labor Day, 8:20 a.m. to 9:10 p.m.
Price: Tram rides cost $10 for adults and $5 for children ages 3 to 15. Children under 3, free
The Magic House, St. Louis Children's Museum
Fun for children of all ages, the
Magic House
is located in southwest St. Louis and features an array of permanent and temporary interactive educational exhibits. Among the favorites is the Children's Village, where kids can see what it's like to work in a variety of jobs with tasks like changing a car tire in a mechanic's shop, working in a pizzeria or stocking grocery-store shelves.
Address: 516 S. Kirkwood Road, St. Louis, MO 63122
Phone: 314-822-8900
Hours: Thursday, Saturday, Sunday, Monday and Tuesday, 9:30 a.m. to 5:30 p.m.; Friday and Wednesday, 9:30 a.m. to 9:00 p.m.
Price: General admission $8.75; infants under one, free
Saint Louis Science Center
One of the top five science museums in the United States, the
Saint Louis Science Center
features more than 700 hands-on exhibits. Favorites include life-size animated dinosaurs, Cyberville, where visitors can create a virtual fish, and Flight!, which lets visitors take control of a jumbo jet.
Address: 5050 Oakland Ave., St. Louis, MO 63110
Phone: 314-289-4400
Hours: Sunday through Wednesday, 9:30 a.m. to 5:30 p.m.; Friday and Saturday, 9:30 a.m. to 9 p.m.
Price: Free. The OMNIMAX theater, Space Show, Lego Mindstorms exhibit and the Discovery Room carry an additional fee
Citygarden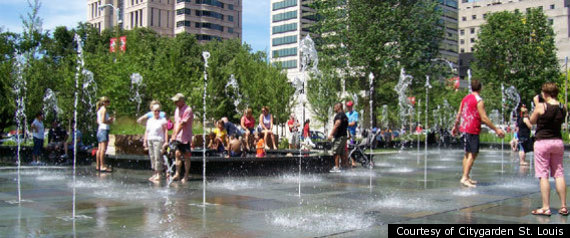 Located near the Gateway Arch, Citygarden is a 2.9-acre urban oasis with a variety of outdoor sculptures, six rain gardens, a children's play area and a 16-foot LED screen wall that shows movies, baseball games and other events.
Address: 801 Market St., St. Louis, MO 63101
Phone: None
Hours: Open daily, 24 hours
Price: Free
St. Louis Art Museum
Home to more than 30,000 art objects, the
St. Louis Art Museum
is one of the nation's top art galleries. The museum, constructed for the 1904 World's Fair, is located in Forest Park near Washington University on the west side of the city. The permanent collection features art and artifacts from virtually every genre and time period. Highlights include Egyptian mummies, French Impressionist and Post-Impressionist paintings, pre-Columbian art and 20th century German art.
Address: 1 Fine Arts Drive, St. Louis, MO 63110-1380
Phone: 314-721-0072
Hours: Tuesday through Thursday, Saturday and Sunday, 10 a.m. to 5 p.m.; Friday from 10 a.m. to 9 p.m. Closed on Monday.
Price: Free
Saint Louis Zoo
The 90-acre
Saint Louis Zoo
features more than 7,000 animals of 500 species. Also located within Forest Park, the zoo's highlights include the African Savannah, an exhibit about the Mississippi River and Missouri wildlife, and the African Nile, where hippos play in a 60,000-gallon pool.
Address: 1 Government Drive, St. Louis, MO 63110
Phone: 314-781-0900
Hours: Monday through Thursday, 8 a.m. to 5 p.m.; Friday through Sunday, 8 a.m to 7 p.m.
Price: Free. Some attractions, including the Children's Zoo, carry an additional fee
Six Flags St. Louis
Located 30 minutes southwest of downtown St. Louis,
Six Flags St. Louis
sits on 200 acres and features 40 rides, including eight roller coasters. The park is divided into themed areas that represent the region's heritage, such as 1904 World's Fair and Gateway to the West. In addition to the rides, Six Flags St. Louis offers a variety of live entertainment.
Address: 4900 Six Flags Road, Eureka, MO 63025
Phone: 636-938-5300
Hours: Open from mid-April through September. Hours vary, check the Six Flags St. Louis website for current hours
Price: Adults, $44.99; children under 48 inches tall, $34.99; children under 2, free. Online special: $34.99 for everyone over 2 years old.
What is your family's favorite St. Louis destination?
CHECK OUT MORE FAMILY TRAVEL GUIDES.
SUBSCRIBE TO & FOLLOW LIFESTYLE
We're basically your best friend… with better taste. Learn more