DALLAS, Texas - Gen. Emiliano Zapata, the legendary military commander of the Mexican Revolution, is still revered to this day for the ideals and principles he brought to the revolution, and for his passionate defense for the land and liberty of dispossessed peasants.
His cause was joined by millions of poor Mexicans, driven by their common belief that "la tierra es de quien la trabaja" -- the land is for the person who works it. They represented a fundamental challenge to the wealthy and powerful -- and ultimately led to President Venustiano Carranza's order to assassinate Zapata in 1919. A martyr was born.
And in Dallas, as he does every Wednesday through Saturday, the legendary general's grandson, Diego Alejandro Zapata, works as a busboy at a high-end restaurant in this city, where he has resided as an undocumented worker for the last 10 years.
Wearing the restaurant's uniform of a white jacket and black pants, he diligently weaves through the tables, pouring water into crystal glasses and serving bread and butter to the diners. When they complete their meals, Diego clears away the used dishes and silverware, preparing tables for the next wave of patrons. He does this numerous times per shift, from 6 to 11 each night.
Diego's 4-year-old daughter Alexa plays and fiddles around. Her eyes are dark and deep, the same drilling stare as her great-grandfather. She says she is Mexican and fully recognizes the mustachioed man in the photo her father holds. Alexa has never been to Mexico, and her mother, who cleans houses to help the family's financial situation, tells her about the country they left behind and the blood of the great Emiliano Zapata coursing through her ​​veins.
To survive economically in the U.S., Diego also works odd jobs in the mornings --- repairing home appliances and doing interior remodeling and construction tasks. He has labored as a carpenter, electrician and general handyman.
His stay in America has been an ordeal. Tired of his undocumented status because it prevents him from traveling to Mexico to see loved ones, he also cannot get a driver's license or work legally. "I hope for amnesty because in Mexico I have nothing. My father and grandfather left us nothing. Not even some land." And so here, he continues waiting for a future for his daughter, his wife and himself.
Diego recalls that his mother lived with Emiliano Zapata's first wife, Inès Alfaro Aguilar, who in her last years of life, helped Diego's mother and protected her after a separation from his father in 1979. "She was a woman of character who tried to manage her husband's temperament and that of her son, Nicolàs, who was problematic," he said.
The theme of the women in Zapata's life is inevitable; he was officially recognized to have fathered 15 children from nine different women, although some historical records suggest there could be many more. "In my family, we tell how grandfather lived in military camps where there were single ladies or widows, often because their partners had died or emigrated from Mexico, so in times of armed conflict it was not strange that relationships could occur," Diego said.
He continued, "My father, Diego Zapata Piñeiro, was born in one of those military camps, the one in Paso Colorado in Tlaltizapán, in 1916, and after his birth, his mother María Jorge Piñeiro fell ill and Emiliano had to take her to a hospital in Mexico City. No one ever knew what became of her, so my father was practically orphaned and so Inés Alfaro took him under her care."
The son of the revolutionary leader, Diego's father did not see much of Gen. Zapata during his childhood, as the patriarch was always participating in peasant organizations and campaigns. "I remember the day he took my three brothers and I to register, as an aunt kept insisting, since we did not have birth certificates and were only accepted in schools as observers," recalled Diego, who is now 46 years old.
His brothers and mother now all live in the U.S. Two of them are also undocumented; Jorge Gabriel, who lives in North Carolina and works as a gardener, and Diego Emiliano, who makes sandwiches at a deli in New York City.

The third brother, Alex Eufemio, is a naturalized U.S. citizen and a chef at a French restaurant in Brooklyn. He was the only family member able to travel to Mexico for their father's funeral in 2008. Through Eufemio, their mother, Gloria Cordero, acquired permanent U.S. residence and works in a chicken processing plant in North Carolina.
Like his grandfather Emiliano Zapata, Diego was born in Anenecuilco, in the state of Morelos in Mexico, where he lived until he was 13 and his parents separated. As he entered high school, he went to live with his grandmother Lupina Torres in La Sabana, in the state of Puebla. ''There, I worked with her in the fields, helping her seed and plow for corn, onions, peanuts, watermelons and gladiolas. I felt love for the land and its bounty." he recalled.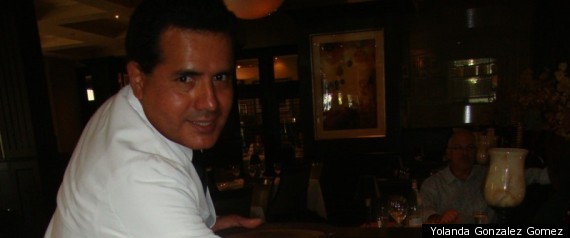 Following this time in his life, he began traveling to the U.S. Diego crossed into the north various times, always without legal documents. The first time, he traveled as an adolescent through the paid services of a "coyote," who took him through Tijuana and into Los Angeles. From there, he flew to New York City and worked as a dishwasher for eight months. He then returned to Mexico to enroll in the army, graduating as a paratrooper in the military brigades.
"When I couldn't find any work, I returned to the U.S. and to New York City, working as a busboy in a Greek diner," Diego said. "My father fell ill and so I had to return to Mexico to help take care of him and try to get work through his connections, but nothing came of it. President Ermesto Zedillo did not meet with me either, so I had no other choice but to travel north."
This time, Diego traveled across the border through the Sonora desert, a trip in which he walked for four days and nights with other migrants, sleeping under bridges and in the hills, until arriving in Tucson, Ariz. From there, he flew to New Jersey. After the 1993 terrorist attempt at the World Trade Center, he moved to Dallas.
He and his wife have both written to current Mexican President Felipe Calderon to solicit his help in securing visas to allow them to live legally in the U.S. They have not received a reply. They also tried to get help from his predecessor, President Vicente Fox, and even from President Barack Obama when he first arrived at the White House in 2009.
A chess and history buff, Diego openly shares his ideas, such as how countries should be governed by business leaders who can promote productivity and competition, which he understands to be global. "And in that, the U.S. still wants to monopolize the work only for its citizens, when to grow and progress, they have to open themselves to the work and accept workers from all over," he said.
To this day, the ideals and image of the great Emiliano Zapata stand as symbols of dignity across Mexico and Latin America, inspiring labor, peasant and political resistance movements. It is not rare to hear "Zapata lives" at leftist rallies.
But here in Dallas, the American employer of the general's grandson did not know about the busboy's legacy or history, that he is the heir to the Army of the South commander, Gen. Emiliano Zapata, the revolutionary who said it was "better to die standing than to live an entire life on your knees."
It's been more than a century since Diego's grandfather commanded an army of thousands and carried the hopes of millions, gave sustenance to the Mexican Revolution, placed the federal government in checkmate and created a heritage of idealism that lives to this day in our neighbor to the south, Mexico. Diego has no real property, rents a small apartment and works daily just to survive in land far from home.
The grandson of this icon who defended and died for the rights of the poor and landless has literally served the rich and powerful in Manhattan and Dallas. He only seeks a handful of documents that would give him back the legality he lost when he accepted exile from his home in order to feed his family.
Emiliano Zapata's dream did not reach his own descendants. "Some day I would like to return to Mexico," Diego said, "but without opportunities, I can't."
SUBSCRIBE TO & FOLLOW THE MORNING EMAIL
Start your workday the right way with the news that matters most. Learn more