House Music: How It Sneaked Its Way Into Mainstream Pop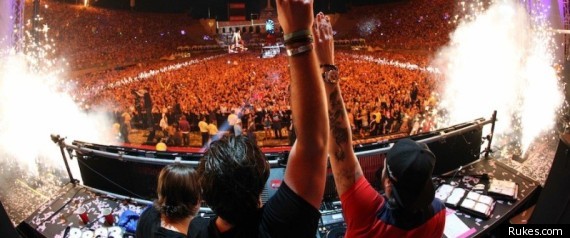 "The American takeover is new," says Alain Macklovitch, the DJ/producer/beatjuggler/turntablist better known as A-Trak. "When I talk to my European DJ friends, they can't believe it. It used to be hard for them to come here and tour, except of course for Chicago and Detroit. But aside from those cities it was always marginal -- the average MTV kid was always listening to hip hop or rock, and it wasn't until a couple of years ago where it exploded."
Macklovitch talks excitedly about the effects of electronic music on other American genres, in part because it's a blend that he helped usher in. He credits Daft Punk's masterful Alive 2007 tour across America and Justice's simultaneous explosion as "educating a whole generation of kids about electronic dance music" (EDM). The obsession spread like wildfire, and familiarity with electronic artists became a ready-made badge of cooler-than-thou: "At the height of the Myspace era, everyone would put Daft Punk in their top friends -- and these are your average club-going kids," Macklovitch says.
A few short years later, the post-Myspace crowd is loading up on Bassnectar remixes of Ellie Goulding songs and obsessively adding Swedish House Mafia tracks to their Turntable.fm queues as they listen in office buildings from Irvine, California, to Manhattan, New York.
A few artists have made a name for themselves in this very space between harder, more fan-centric house and singalong club hits, including Pharrell (who contributed a few lines to Swedish House Mafia's "One") and Lil Jon (who's friendship with DJ Steve Aoki has resulted in his omnipresence at house festivals). But no one's name came up as often in interviews for this piece as the ever-shapeshifting, reggaeton-cum-house vocalist Pitbull. Dutch DJ and house producer Nick van de Wall (stage name Afrojack) known best stateside for "Take Over Control" -- a frenetic track with Eva Simmons' vocals that sounds like every Rihanna song got rolled into one and injected with epinephrine -- speaks highly of the Miami rapper.
"He's a combo between a little hip hop rep and some pop," de Wall tells me. "But he's only been doing dance music for years now. That's really good to see for the house community."
De Wall, who will be performing at New York's Electric Zoo over Labor Day Weekend, produced "Give Me Everything," a Pitbull, Ne-Yo and Nayer club-ready joint that, at press time, was charting at No. 4 on the Billboard Hot 100.
Macklovitch has a slightly different take: "Pitbull has an interesting strategy -- he basically jumps on all the hot dance tracks in Europe before they come to America. It's sort of like, 'Let me look at the charts, what's the number one song? Let me rap on that.'"
For producers like Macklovitch, whose 2007 Dirty South Dance mixtape featured rap acappellas over electro dance beats, seeing artists like Pitbull usher dance music into the greater American consciousness is bittersweet at best.
"I found myself at the crux of that -- Fool's Gold [Macklovitch's record label] was founded at the exact intersection between hip hop and dance music," he said. "Blending genres started as an experiment of mine and the next thing you know, it became the sound of pop -- it's frustrating, because a lot of times it's not done very well in the songs you hear on the radio."
If it's personally disconcerting for artists like Macklovitch, this new style (shall we say, neu pop house?) is the bee's knees for a large portion of 16- to 35-year-olds ready to strap in and see where jumpy DJs can take them.
Among the leaders of this give-them-what-they-want form of house-influenced pop is Lukasz Gottwald, the hitmaker of hitmakers known as Dr. Luke. Normally we'd roll our eyes at a moniker like that, but consider the following tracks Luke has been involved with (written, produced or both): Katy Perry's "Hot n Cold," "I Kissed a Girl," "California Gurls," "Teenage Dream," "Last Friday Night" and "E.T."; Kelly Clarkson's "Since U Been Gone"; Taio Cruz's "Dynamite"; Britney Spears' "Hold It Against Me" and "Till The World Ends"; Ke$ha's "We R Who We R," "Your Love Is My Drug" and "Tik Tok"; and Miley Cyrus' "Party In the USA."
Given that that's a nowhere-near exhaustive list of his hits, it's safe to say that Gottwald has his finger on the pulse. If you've had a song stuck in your head over the past few years, you have him to thank (or hate).
That Gottwald has so quickly adapted his pop starlets to the dubstep stylings of "Hold It Against Me" (a song he reportedly first wrote for Katy Perry before deciding Spears was a better fit) speaks volumes as to the demand for EDM in America.
Though it doesn't need it, EDM got another heavy dose of validation when Kanye West and Jay-Z's Watch the Throne was released Monday. Many listeners were shocked to hear the two artists -- West, known for his obsession with production value and Jay, known for fighting, not following trends (see "Death of Autotune") -- to rap over the textbook dubstep beat on "Who Gon' Stop Me."
Not surprisingly, it has been reported that the track was phoned-in for by the label A&R. The producer, Sham Joseph, also wrote Rihanna's chart-climbing "Man Down."
Macklovitch, who toured with West and is now producing with Armand Van Helden under the name Duck Sauce, notes that Kanye making "Stronger" -- which samples Daft Punk's "Harder Better Faster Stronger" -- was a huge step in bringing hip hop and EDM closer together.
It's been interesting, he says, to see "electronic dance music start to mix with hip hop, then influence hip hop and now really conquer the hip hop world itself." But he says there is far better work to be done.
"It's too easy to just be grumpy," he says. "it's more interesting to roll up my sleeves and say 'I have to do this better.'"
As house music continues to permeate American pop, DJs (in particular, European DJs) will have to ask themselves how important maintaining the purity of their sound actually is. When The Huffington Post asked de Wall how he went about remixing Lady Gaga's "Alejandro," he quickly said that he "always asks what their A&R is looking for. Then I find a way to go in between what I like and what they want. Then I keep pushing it towards what I like and eventually they say "OK, cool, go for it."
"You have to gear them in a way that mainstream fans can understand and appreciate -- without disappointing dance music fans," he added.
It will be interesting to see how far can EDM creep into pop before pop sinks its own teeth into house and electro producers and leaves their fans with nothing but some vague Spears/Perry jumble. If fans of house think all pop songs sound alike and fans of pop think all house songs sound alike, is this truly a match made in heaven?
Regardless, house is the thing of the moment, and it's hard to say who to blame. In a summer filled with credit downgrades, riots in London and talks of something called a double-dip recession, America's partiers seem ready to fist-pump their nights and early mornings away. They may not be dreaming of St. Tropez, but at least they're still acting European, right?

LISTEN to Swedish House Mafia's "Save the World":

LISTEN to Britney Spears' "Till the World Ends":