Sometimes, a video is so amazing that, even though it's old, it has to be disseminated as widely as possible. So it is with this clip of the "Today" show celebrating Hoda Kotb's birthday. It's so incredible that we're writing very intensively about it a full three days after it happened, because we're really sad that we missed it and feel like it can't be kept off of HuffPost Media. How do we love this video? Let us count all the reasons why.
1. The fact that Kathie Lee started by wishing Betty Boop a happy 81st birthday, and then said, "She and Frank could have been a thing!"
2. The fact that Hoda said she was feeling good, and that Kathie Lee said, "you had a brush with mortality, which sobers a person. Only time you've been sober ever."
3. The fact that Kathie Lee started listing other famous people whose birthday it was, and said that Whitney Houston was also turning 47 that day, and Hoda said, "isn't Whitney Houston a year older than me? Am I 47?" and seemed to have forgotten how old she was.
4. The fact that some random country singer serenaded Hoda and sang "shake it for me" to her, and Kathie Lee had no idea who he was, even though he was coming on the show the next day.
5. The fact that, at some point, Hoda's face looked like this: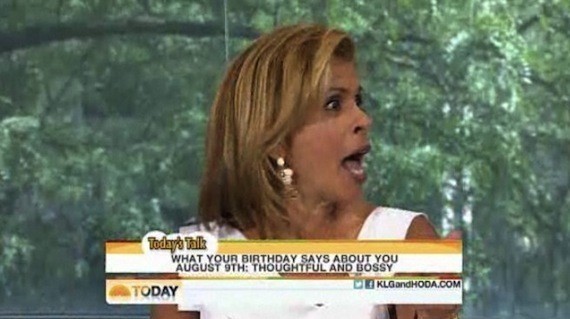 6. The fact that, then, Hoda's boyfriend Jay surprised her with wine! And they kissed! It was just like the royal wedding.
7. The fact that Jay then said, "shake it for me," and Kathie Lee said, "and she does about five times a day," and Jay said, "where am I?!" and that he also brought tequila because he knows how much Hoda likes to drink!
8. The fact that, once they moved on, it was to a completely whacked out story about makeup.
In short, the Sistine Chapel of crazy.
WATCH:
Visit msnbc.com for breaking news, world news, and news about the economy