Critics Question Competency Of Inspector General's Office At Nuclear Regulatory Commission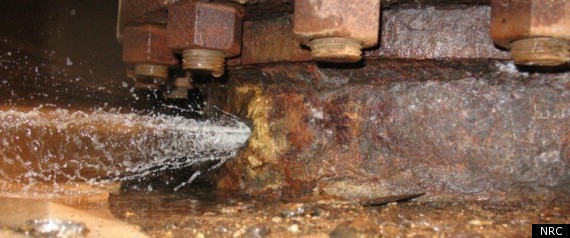 Some experts say they already have lost faith in the OIG.
"I haven't taken a safety or security concern to OIG in years, and I haven't distributed an OIG report in years. It's not the same OIG. Their reports have become blank pages with ink on them," says David Lochbaum, a nuclear engineer and the director of the Nuclear Safety Project of the Union of Concerned Scientists, a non-profit science-advocacy group founded in 1969. It is supported largely by its membership, which includes both private citizens and professional scientists committed to "rigorous scientific analysis, innovative policy development, and effective citizen advocacy to achieve practical environmental solutions," according to the group's website.
"It's easy to count the number of times that things went wrong at nuclear power plants over the years," Lochbaum says. "But you can't count the number of times that solid OIG work prevented something from going wrong."
THE OIG, MULLEY AND NUCLEAR SAFETY
Today, according to its most recent strategic plan, the OIG employs "auditors, management analysts, engineers, criminal investigators, investigative analysts, legal counsel, and support personnel." In practice, though, the office is roughly divided into two parts: an audit group, charged with ensuring that NRC's activities are carried out with economy and efficiency; and the investigative group, which looks into allegations of fraud, waste and potential criminal misconduct.
The audit side of the operation is important, but the investigative team, where Mulley worked for more then a quarter century, is where the action is -- or at least where it once was.
The Nuclear Regulatory Commission itself opened for business in 1975 after Congress decided that its predecessor, the Atomic Energy Commission, was inherently conflicted in its dual role as both a regulator and avid promoter of nuclear power. An Office of Inspector and Auditor (OIA) was established inside the agency to keep a corrective eye on internal activities.
It wasn't an immediate success.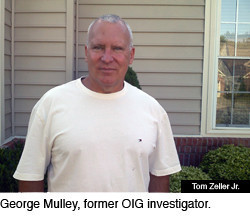 Within just a few short years, investigators from the federal Government Accountability Office were describing the OIA as having "focused too much of its attention on administrative and personnel matters rather than on the more important NRC programs."
This was a period of fervent government reform -- or at least attempts at it. The 1978 Inspector General Act had recently installed inspectors general at 12 agencies -- though notably not the NRC. Unlike internal investigators that remained under the thumb of agency chairmen, these inspectors were truly independent, enjoying in many cases independent budgets, appointment by the president himself and Senate confirmation.
Congressional investigators, led by John Glenn -- the Ohio Democrat and then-chairman of the Senate Committee on Government Affairs -- had long considered the lack of a truly independent investigator at the Nuclear Regulatory Commission a glaring oversight, given the risks to public health involved. By the mid-1980's they were calling loudly for reform.
George Mulley, meanwhile, had dropped out of the pre-med program at the University of Massachusetts more than a decade earlier and enlisted in the Army. "You'll never see two parents as disappointed as mine were," Mulley, now 62, recalls. "I was itching to see the world." His high IQ landed him in intelligence work and he spent most of the 1970's working with the Army's Criminal Investigative Division.
He arrived at the NRC's Office of Investigations and Audits in 1982 and he took to the mission with relish, such that by 1987, he found himself testifying before Glenn's committee. There, he described efforts by both the NRC management and the OIA to quash his investigation into a whistleblower retaliation case at Comanche Peak nuclear power plant in Texas. Mulley had found that an inspector at Comanche Peak was being punished by regional supervisors for identifying problems at the plant. He also testified that his supervisor at the OIA had substantially edited his report on the Comanche Peak case in a way that "downplayed the severity of the ... management problem."
A year after the hearings, Congress passed a law adding inspectors general to several federal agencies -- including the Nuclear Regulatory Commission.
David Williams, who in his role as an associate director of the Accounting and Financial Management division of the General Accounting Office had authored a scathing report on the OIA and the NRC's inability to aggressively monitor itself, was installed as the first head of the newly formed OIG. Williams, now the inspector general at the U.S. Postal Service, quickly established an investigatory protocol that included, among more mundane probes, aggressive "event inquiries" that probed the NRC's handling of crises at the nation's nuclear power plants.
The OIG submitted these reports to Congress and typically published them for all to see on the NRC's fledgling website. This practice was picked up and continued under the leadership of Hubert T. Bell, who was appointed by President Clinton as the NRC's inspector general in 1996, and who remains in that position today.
To be sure, patrolling and eliminating fraud and waste by government employees -- including comparatively ho-hum scrutiny of government credit card abuses or padded expense accounts -- was and remains part of any IG's mission, including at the NRC.
But given the potential risks associated with nuclear power, the inspector general's office at the NRC had something of a higher calling.
"It is clear from transcripts of the Congressional hearings held when the NRC OIG was created that Congress wanted the [it] to fill the traditional roles of all OIGs," says Michael T. Cash, a former engineer with the NRC's Inspector General's Office, in an open letter sent to reporters last week. "But Congress was most interested in the OIG as a watchdog over the NRC staff's regulatory oversight of nuclear power plants."
Lochbaum, the nuclear engineer and a frequent critic of the NRC who also briefly worked for the agency as a reactor technology instructor, points to more than two dozen OIG reports over the last 20 years that he says uncovered substantial problems with the agency's oversight of nuclear power plants and often led to congressional investigations -- and, eventually, substantive changes at the NRC.
Among them: A scathing report on the NRC's long-running and bungling efforts to install critical fire protection at the nation's nuclear plants; a damning 2003 investigation into a near-accident at the Davis Besse plant in Ohio, in which NRC management was found to be slavishly worrying about the financial interests of the plant operator, rather than ensuring public health and safety; and a widely-read investigation into the NRC's failure to adequately regulate spent fuel handling at the Millstone nuclear power plant in Massachusetts.
In 2007, the Union of Concerned Scientists highlighted the Millstone case, among others, as evidence of how important the Office of the Inspector General had become.
"These OIG reports were solidly investigated, well-documented and irrefutable," says Lochbaum. "Their findings were bulletproof and led to necessary reforms and upgrades. I would take an OIG report and distribute it to Hill staffers, reporters and local activists to get the word out."
"Combined, these reports speak highly about George Mulley," Lochbaum adds. "He applied an unbiased process to achieve solid results."
Indeed, Mulley's bulldog persistence as an investigator earned the respect of independent nuclear safety watchdog groups who saw him and the OIG as allies in their mission. Meetings with OIG staff and Mulley became routine among veterans of nuclear safety advocacy -- including Lochbaum; Jim Riccio of Greenpeace; Pete Stockton of the Project on Government Oversight; and Paul Gunter, the director of the Reactor Oversight Project with the group Beyond Nuclear.
McMillan says that he continued these meetings for a time -- and even sought to make them more frequent -- after Mulley retired, but that these stakeholders chose to no longer participate. "On their volition, they backed off on doing that," McMillan says. "But that didn't stop some of those same individuals from picking up the phone and calling this office regarding issues, or copying this office on issues that they may very well have taken to the Hill."
Lochbaum says the stakeholders quit meeting with the OIG because the meetings no longer bore fruit.
"We got the impression that at some point, they were just having the meetings so they could say 'Yes, we're meeting with the activist community,' so they could check off that box," he says. "But otherwise, they weren't getting back to us on issues we raised with them, and many of us decided it just wasn't worth our time."