Critics Question Competency Of Inspector General's Office At Nuclear Regulatory Commission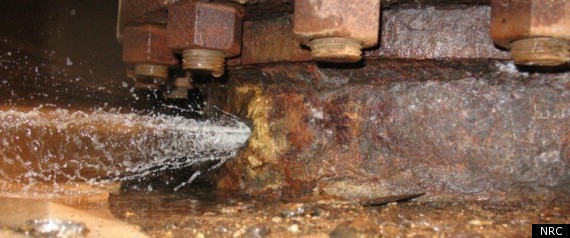 Lochbaum says many nuclear safety groups simply started bringing their concerns to lawmakers with reputations for keeping tabs on the nuclear industry -- Markey and Rep. Henry Waxman (D-Calif.) among them.
"There are a variety of options to get a known safety issue out there," Lochbaum says. "IG used to be at the top of the list. Now it's fallen off."
Jim Riccio, a long-time nuclear policy analyst with Greenpeace, was more harsh in his assessment of the current OIG: "They're lame," he says in an email. "They seem to be collecting second pensions and not making waves."
Garde, meanwhile, says it was around 2008 that she began getting complaints from employees inside OIG. She pointed to the frustrations of one recently departed OIG agent who asked not to be identified for fear of jeopardizing future employment opportunities in government. This employee said operations inside the office had devolved into "the Keystone Cops," with copious amounts of time and money spent "investigating penny-ante stuff" like NRC employees viewing pornography on government computers or misuse of metro transit subsidies.
"They weren't working any real investigations," this former employee says, adding that Bell, the third-longest serving presidentially-appointed IG at any federal agency, was rarely seen in the office. "My peers from my federal law enforcement training class, they were all out in the field doing real investigations. We spent most of our time behind our desks."
Former employees also say that senior management avoided investigations that were too involved or too complicated, sometimes summarily closing cases that should have resulted in detailed reports to Congress and the public.
In 2007, for example, the OIG -- acting on concerns raised by nuclear safety advocates -- began an investigation into whether or not a model the NRC uses to assess the impact of airplanes crashing into nuclear power plants was truly effective in forecasting the potential damages associated with such an event. Chief among the concerns: the so-called Riera model was not rigorous enough and was based on outdated information -- including airplane models that are no longer frequently used in commercial aviation.
Mulley and another former employee worked the case, and both say that a variety of experts interviewed suggested that the models used were not sufficiently rigorous and more up-to-date models were available. Both Mulley and the other employee left while the case was still open.
Two years later, the case was closed by McMillan -- with no report issued. A memorandum describing the disposition of the case, which was recently obtained by the Project on Government Oversight, suggests that the central question -- whether the current models were inappropriate -- was never actually addressed.
"That case never should have been closed without any report being issued by OIG," Mulley says. "The question was important, and it deserved to be addressed and answered."
Cash, the former OIG engineer, also worked with Mulley on the Riera model investigation, and he says in his letter that he was perplexed at the absence of a full report on the issue.
"From the work that I had done it appeared to me likely that issues had been identified that should be reported in a public report as well as a non-public classified form," Cash writes. "I will also note there were many other issues Mr. Mulley and I were developing for possible future cases," he adds. "[B]ut as far as I can tell none of these has resulted in a public report."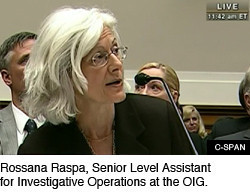 McMillan referred a reporter's query about the aircraft model investigation to his senior level assistant for investigative operations, Rossana Raspa, who says the OIG's final analysis showed the Riera model to be suitable.
"During its review, OIG reviewed relevant documents and interviewed knowledgeable individuals from government and national laboratories, as well as NRC staff, whose consensus opinion was that the Riera methodology was adequate for the purpose for which it was being applied: evaluation of aircraft impact on containments and spent fuel pools," Raspa says in an email. "In addition, OIG learned that the Riera methodology is also endorsed by the U.S. Department of Energy as an acceptable method of evaluating aircraft impact on its nuclear and hazardous facilities."
On the myriad other concerns raised by critics, McMillan says he was perplexed. He concedes that morale inside the office had experienced peaks and valleys amid numerous personnel changes, but he adds that it takes time for any team to gel.
The OIG has 58 full-time employees, of which 18 are on the investigative side, and since 2007, turnover has been substantial -- including 11 employees who left the agency to find work elsewhere in government. Two investigators left as recently as last week. Both, according to a source inside the NRC who asked to remain anonymous for fear of reprisals, were disgruntled.
Asked about morale inside the office today, McMillan says: "It's better."
He also cites statistics suggesting that the office has received a total of 973 allegations of wrongdoing from a variety of sources, including 191 anonymous tips, 222 tips from the general public, 213 from NRC employees and 74 from NRC management.
"When I look at how we get the allegations," McMillan says, "this is a pretty good indicator that there's a high degree of assurance that people have faith in pushing information to this office."
McMillan also says that critics' assertion that his office is no longer tackling the most important work -- investigating NRC's oversight activities at nuclear power plants -- or that the concerns of dedicated nuclear safety advocates were being ignored was unfair.
"When you look at the body of work, you will find that their concerns were investigated," he says. "There have been matters that we aggressively pursue. But just because they raised an issue didn't in and of itself necessitate that, at the end of the day, when the investigation was complete, it bore fruit to their concern."
He also says that without the benefit of access to the information and resources his team routinely handles, it's too easy for outsiders to make quick judgments about what issues his office is or is not investigating. And McMillan adds that he thinks too much emphasis is placed on labels like "event inquiries" -- the deep probes of NRC's oversight at nuclear power facilities that critics have complained are no longer pursued and published with the frequency they once were by the OIG.
"I try not to get hung up on the type of report," McMillan says. "People are going to clearly have their own view as to what should and should not be public. I don't begrudge them their philosophy."
Finally, McMillan suggests that much of the criticism of his office derived from an understandable but ultimately unfair reality: people who grew accustomed to Mulley over 25 years simply miss him.
"Relationships are very important, and I think in this industry of investigations we build a lot of relationships over years, some wittingly, some unwittingly. And we have certain levels of confidence in certain people, because of the relationship in and of itself," McMillan says. "But I think it's patently wrong that unless you have all the information to assess and relate to it, to summarily say, well, that person is not meeting the standard. And some of that has come into play here, because of the longevity of an individual."
Lochbaum, however, suggests that nuclear safety advocates would not abandon a partner in their mission over a mere change in personnel. "It's not like we have a thousand allies on this issue, so we're not apt to easily disregard one," he says. "We're very loathe to toss one aside."
At his home in Virginia, Mulley describes himself as fundamentally -- almost aggressively -- apolitical, and says he has never registered to vote in a single election, local or national. He also produces numerous records of his accomplishments at OIG, including a Meritorious Service Award from 1994 and an Award of Excellence issued 14 years later.
"In case anyone questions my record," he says.