Family Vacations In Wisconsin: A Huffington Post Travel Guide
Family vacations in Wisconsin can be rewarding experiences or absolute disasters -- it all depends on pretrip homework. To make planning easier, we've done all the preparation. As part of a Huffington Post Travel series on traveling with children, here are recommended attractions for those planning Wisconsin family vacations.
Lumberjack World Championships
Each year, the
Lumberjack World Championships
, held in Hayward, Wis., draws thousands of spectators to watch lumberjacks from around the globe compete for prize money exceeded $50,000. The championships' 21 competitions include, among others, log rolling, hand saw races, chainsaw races and a climbing race, where competitors race to the the top of either 60-foot or 90-foot-tall poles. The show's venue, the Lumberjack Bowl, also puts on an entertaining
lumberjack show
five days a week during the summer months.
Address: 15670 W Country Road B, Hayward, WI 54843
Phone: 715-634-2484
Hours: The three-day competition is held during the last full weekend in July. Times may change, but the gates generally open Friday and Saturday at 8:30 a.m. and at 1 p.m on Sunday. The competition ends each day when all events are completed
Price: Adult three-day reserved seat, $48; seniors (62 plus), $45; children 5-12, $43. Adult three-day general admission, $43; seniors (62 plus), $40; children 5-12, $37. Single-day passes available.
Elkhart Lake's Fireman's Park And Swimming Beach
Fireman's Park and Swimming Beach
, located on Elkhart Lake, has clean, clear water for swimming, a sandy bottom and a sectioned-off shallow area for little ones. Visitors can choose to relax on Fireman's Park's nice sand beaches, play volleyball or grill on one of its barbecue grills.
Address: 411 S. Lake Street, Elkhart Lake, WI 53020
Phone: 920-876-3788
Hours: Open from Memorial Day through Labor Day; opens at 10 a.m.
Price: Adults, $2; children, $1
Madison Children's Museum
In 2011, the
Madison Children's Museum
located in Madison, was named by Parents magazine as one of the
10 best children's museums
in the United States. The museum is divided into age-appropriate sections so children won't be overwhelmed by activities that are too old for them or be bored by exhibits that are too young. The museum also has an art studio on site where children can let their creative juices run wild.
Address: 100 N. Hamilton St., Madison, WI
Phone: 608-256-6445
Hours: Open daily from 9:30 a.m. - 5 p.m. except on Thanksgiving Day, Christmas Eve, Christmas Day, New Year's Day and a week in January for maintenance. Thursdays, open until 8 p.m.
Price: Adults and children, $6.95; seniors and grandparents, $5.95; children under 1, free. The museum will charge only $1 if a guest meets certain qualifications. Please see website for more details
Wisconsin Dells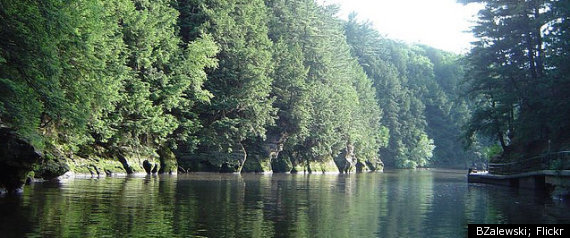 The Wisconsin Dells calls itself the water park capital of the world, and it certainly has more than its fair share of both indoor and outdoor aquatic wonderlands. In addition, waterlogged visitors looking for other things to do will find plenty of alternative activities in the Dells, including horseback riding, Duck Boat rides to see the area's famous sandstone formations, entertainment shows and miniature and real golf. Features like these are what made TripAdvisor readers name the Dells theirNo. 1 family vacation destination in the United States.
Address: 701 Superior Street, Wisconsin Dells, WI 53965
Phone: 800-223-3557
Hours: Varies, depending on activity
Price: Varies, depending on activity
Milwaukee Public Museum
The
Milwaukee Public Museum
is a combination of natural history and science museum. Exhibits include one that depicts the streets of old Milwaukee and a mammoth skeleton. Family members, especially children, will enjoy the Milwaukee Public Museum's indoor
butterfly garden
. In addition, this facility has a planetarium and an IMAX theater on site.
Address: 800 West Wells St., Milwaukee, WI 53233
Phone: 888-700-9069
Hours: Open during the summer 9 a.m. to 5 p.m. daily, except for Tuesdays when it is closed. The museum is closed on July 4, Thanksgiving Day and Christmas Day and once a year for maintenance. Check website for spring, fall and winter hours
Price: Adults, $12.50; seniors (60 plus), college students with ID and children three to 17, $11
Lake Geneva Mail Boat Tour
Lake Geneva is one of the few places left in America where the mail is delivered by boat. The unique way this task is performed has been featured in a number of different media outlets, such People magazine and NBC's "Today" show. Visitors can hop aboard the
mail boat
for a tour of the lake and watch as the mail carrier jumps from the moving boat, delivers the mail and picks up any items from the approximately 60 houses on the lake, and then tries to make a flying leap at the boat before it gets out of reach.
Address: Lake Geneva Cruise Line - Riviera Docks, 812 Wrigley Dr., P.O. Box, Lake Geneva, WI 53147-0068
Phone: 800-558-5911
Hours: Summer schedule: June 11 to Aug. 28, 10 a.m. to 12:30 p.m. (except for June 13 and June 14, 10 a.m. to noon). Fall schedule: Until Sept. 15, 10 a.m. to 12:30 p.m.
Price: Adults (18 to 64), $29; seniors (65+), $27; children 13 to 17, $21; children four to 12, $16; children three and under, free
Noah's Ark Family Park
Noah's Ark is not only the largest water park in America, it also made Travel Channel's list of the best family water parks in the United States. This immense park, which is located in the Wisconsin Dells, doesn't have just one wave pool and lazy river; it has two of each. In addition, Noah's Ark has four water play areas designed especially for kids, and some of the most innovative rides ever seen in a water park. Its Scorpion's Tail ride, for instance, features an American first: a looped water slide.
Address: 1410 Wisconsin Dells Pkwy., Wisconsin Dells, WI 53965
Phone: 608-254-6351
Hours: Open daily from approximately Memorial Day to Labor Day. The park generally opens at 10 a.m., but on some days the front half of the park will open at 9 a.m. Noah's Ark closes between 6 p.m. and 8 p.m., depending on the day and month
Price: General admission, $35.99; children under 47 inches tall receive a 20 percent discount; children, two and under are free
Have you been to Wisconsin? What are your favorite attractions?
Check out more FAMILY VACATION GUIDES.