Kim Kardashian is no stranger to sharing intimate moments and photos with the world, but we can probably file this under TMI.
The details of the 30-year-old's upcoming wedding to Kris Humphries this weekend have largely been hush-hush, but there are a few private things Kim has no problem sharing, like her skin condition.
On Saturday she tweeted:
"Kinda funny & gross but look at my heart shaped psoriasis! LOL Had to share!" along with a photo of the oddly-shaped psoriasis patch on her upper arm.
Too much information? Maybe, but is it a coincidence that not even 24 hours later the reality TV star finally accumulated more than 9 million Twitter followers? Kim clearly has a handel on what people want.
She tweeted to her fans:
"OMGGGGG I just saw I reached 9 MILLION followers!!!!!! I am so speechless! YOU truly are my world and mean everything to me! I LOVE YOU!"
Kim's been completely open about her psoriasis since her diagnosis of it aired on an episode of "Keeping Up WIth The Kardashians" last month and has tweeted about trying different creams to make it go away.
Check out Kim's heart shaped psoriasis patch: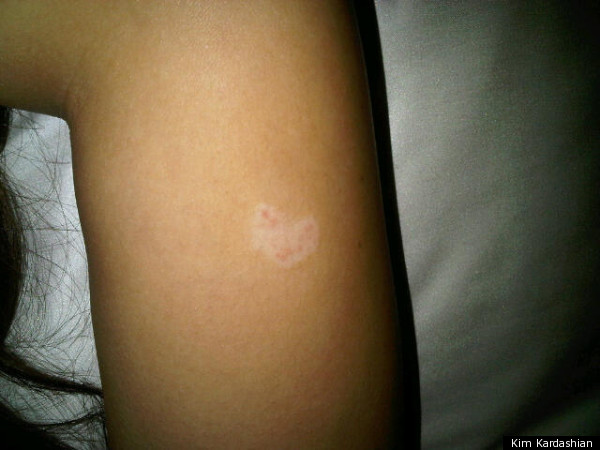 Of course Kim's not the only celeb who likes to share a little too much. Check out these slightly NSFW celebrity cases of TMI:
Kim Kardashian Tweets About Psoriasis
On Saturday, August 13, Kim tweeted about her heart shaped psoriasis patch on her upper arm. "Kinda funny & gross but look at my heart shaped psoriasis! LOL Had to share!"

On August 1, 2011 Kim tweeted about how she's handling the skin condition. No word yet on what she's using or how it works.

On December 10, 2009 Kim tweeted her visit to the dentist: "At the dentist for a good teeth cleaning! This is serious!"

Katy Perry tweeted a photo of herself nude in the bathtub, covering herself with a pizza box. Perry tweeted, "I have no self control," along with the photo on June 24, 2010.

On June 16, 2009 Lindsay Lohan tweeted: "I'm THAT bored" and decided to share some skin with the rest of Twitter.

Former "Scrubs" star Donald Faison's girlfriend Cacee Cobb overshared this photo of him naked, on the toilet.

On April 29, 2010 Dave Navarro showed Twitter what he's really made of, tweeting a photo while getting blood taken. Dave thinks," Blood work is fun! :)"

Did Ashton Kutcher become the celebrity king of Twitter by tweeting a photo of his wife, Demi Moore's butt? It probably has something to do with it. On March 23, 2009 Kutcher tweeted: "Shh don't tell wifey" along with the photo.

On April 9, 2010 Kelly Osbourne gave Twitter the gift of a dead lizard. She tweeted: "This is the other dead lizard that was outside my house." She tweeted a photo of another lizard the day before. Thanks Kelly.

Pretty much any photo Coco tweets is going to be a bit too much. She tweeted: "My boobs give my girl Jess,power!...That or she's in love with them..LOL"