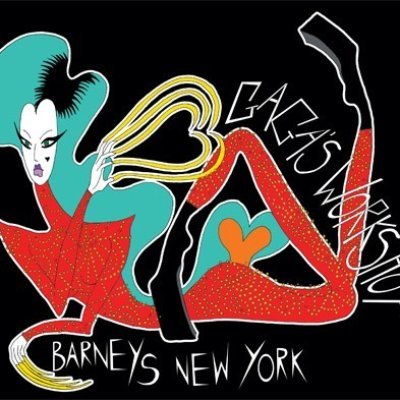 Courtesy of Barneys New York
Usually around Christmas time, most department stores are happy to deck their windows and interiors out with the usual holiday decorations - a big tree, a questionable-looking Santa Clause, twinkly lights and maybe some holly and jingle bells. Barneys New York however, isn't most department stores. So when it came time for Creative Director Dennis Freedman and the rest of the new creative team to brainstorm a concept that would trump the average trip to see Santa at the mall, they decided to take the winter wonderland fantasy and turn it on its head.
This year, starting in mid-November, the entire fifth floor of Barney's Madison Avenue flagship store, as well as its windows, will be transformed into Gaga's Workshop - a space created in collaboration with Gaga, AVAF (Assume Vivid Astro Focus) and of course, Nicola Formichetti. Not only can you experience Lady Gaga's interpretation of what santa's workshop looks and feels like, there will also be limited-edition gift items for purchase, with 25% of all proceeds going to a charity of Momma Monster's choice.
Barneys has really been on a role lately, especially with Dennis Freedman's new creative direction and Carine Roitfeld's much-talked about styling (and modeling) job on the new campaign. Bringing Gaga, Formichetti and AVAF in to create a new and innovative holiday concept just seems like the perfect next step for the out-of-the-box department store.
So what can we expect from Gaga's Workshop? Our guesses are endless at the moment, but one thing's for sure upon hearing this news, that enthusiastic excitement we used to feel as a kid when our parents took us to the mall to see Santa is definitely back.
SUBSCRIBE TO & FOLLOW LIFESTYLE
We're basically your best friend… with better taste. Learn more