We've got the classic road trip scenes and scenarios covered -- from Chevy Chase's wild National Lampoon's "Vacation" to the rebellious "Thelma & Louise" -- but when it comes to spicing up our on-camera cross country repertoire, leave it up to the cast of "Modern Family."
The cast has recently been tweeting up a storm when it comes to their current filming location, Jackson Hole, Wyoming. Now, plot-wise, we don't know if the modern gang got to their backwoods location by plane, train or automobile but if we know the Pritchetts, Dunphys and Tuckers, they wouldn't give up the chance to spend some quality four-wheel time together. Plus, we've got some Twitter pic evidence that the cast has been doing some filming in their vehicles -- on a road trip perhaps? Because we have no spies among the "Modern Family" gang we've been left to our own devices to re-imagine the classic American road trip with a "Modern" spin, of course.
Claire, Haley and Alex:
Claire is using the family's road trip as an excuse to get her two teenage daughters away from their obsessive ties to the digital world -- to little avail. Haley spends the majority of the trip climbing on top of their minivan at rest stops, hoping to catch cell phone service, while Alex has her nose buried in her e-reader. Hoping to bridge the gap between herself and her teenage daughters, Claire starts reading vampire book series, Twilight. But instead of forging a bond with her daughters, Claire becomes obsessed with the series and is seen wandering around their campsite, exposing her neck to any rustling foliage. She also repeatedly asks husband, Phil why he can't be "more like Edward," to which Phil, sitting on a log in the woods, looks to camera, confusedly asking, "who's Edward?"
Jay, Gloria Luke and Manny:
On the other side of the camp grounds, where the family has rented a number of cabins, Jay, Gloria, Luke and Manny head out for a little fishing. While Jay is trying to teach Manny -- who is completely out of his element, and is dousing himself in antibacterial accordingly -- and Luke how to fish, Gloria, bare hands, reaches into the murky water before pulling out a wet and flapping fish exclaiming, "You babies, this is how we do it in Colombia!"
Phil
In attempt to show that he wears the pants in his family, Phil purchases a state of the art GPS system for his manly minivan. But while programing the technologically advanced equipment, the technologically inept Phil accidentally sets the language to Japanese and spends the entire trip defending the voice (whom he affectionately names, Lingling) from his family's jabs.
Cameron, Mitchell and Lily
Cameron and Mitchell, who are both deathly afraid of horses (Cameron fell off of a horse in his childhood while Mitchell was merely teased because of his horse-like, pre-braces teeth), are attempting to put their fears aside and saddle up to teach daughter Lily that anyone can overcome their insecurities. Lily is a natural. Cameron and Mitchell, not so much -- although each is putting on their best cowboy face in order to impress the local sheriff.
Should we send show co-creator and producer, Steve Levitan an outline of our episode?
Check out photos from the gang's trip to Jackson Hole: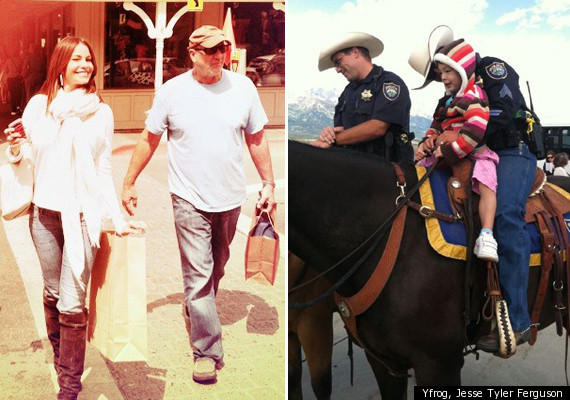 Check out these classic road trip flicks: