Family vacations in Minneapolis can be rewarding experiences or absolute disasters — it all depends on pre-trip homework. To make planning easier, we've done all the preparation. As part of a Huffington Post Travel series on traveling with children, here are answers to some frequently asked questions about Minneapolis family vacations.

Minneapolis Institute of Arts
Located in the historic Whittier neighborhood, west of downtown Minneapolis, the
Minneapolis Institute of Arts
is home to more than 80,000 art objects, representing virtually every period in art history. Highlights of the museum include the Purcell-Cutts House, a restored house of the Prairie School style of architecture, and the museum's collection of European paintings.
Chain Of Lakes
More than five million people visit
Chain of Lakes
each year, and with good reason. This 13.3-mile long lakeside recreational area features hiking trails, seasonal outdoor concerts, canoeing, a bird sanctuary and historic homes, including one that belonged to the poet Henry Wadsworth Longfellow.
Cedar Point Beach
Minneapolis may be well away from the Atlantic and Pacific oceans, but the city's many lakes provide dozens of recreational swimming opportunities.
Cedar Point Beach
, located west of downtown, sits on Cedar Lake and offers hiking trails and picnic facilities, and even some sand to make visitors feel like they're on the coast.
Fort Snelling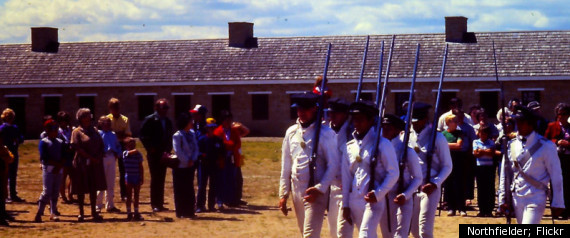 Listed on the National Register of Historic Places,
Fort Snelling
was built in the early 1820s as a western outpost at the junction of the Minnesota and Mississippi rivers. Today, the restored fort is an ideal place to learn about Minnesota's history, from the 1800s until World War II.
Address: 200 Tower Ave., Minneapolis, MN 55111
Phone: 612- 726-1171
Hours: Memorial Day weekend through Labor Day: Tuesday through Saturday, 10 a.m. to 5 p.m.; Sunday, noon to 5 p.m.; September and October: Saturdays 10 a.m. to 5 p.m.
Price: Adults, $10; seniors and students, $8; children ages 6 to 17, $5; children ages 5 and younger, free
Minnesota Children's Museum
The
Minnesota Children's Museum
, located in downtown St. Paul (across the Mississippi River from Minneapolis), offers an array of permanent and temporary interactive learning exhibits. Among the most popular are Earth World, which gives kids a chance to learn about Minnesota's unique habitats, and Rooftop Art Park with its 12-foot tree fort for visitors to explore.
Address: 10 W. Seventh St., St. Paul, MN 55102
Phone: 651-225-6000
Hours: Monday through Thursday, 9 a.m. to 4 p.m.; Friday and Saturday, 9 a.m. to 8 p.m.; and Sunday, 9 a.m. to 5 p.m.
Price: Adults and children, $8.95; infants (under age 1), free; admission is free for everyone on the third Sunday of each month
Minnesota Zoo
Located southeast of downtown Minneapolis in the suburb of Apple Valley, the
Minnesota Zoo
is home to more than 4,200 animals of 542 species, many of which are considered endangered or threatened. The 485-acre park is divided into six themed areas. Highlights include Medtronic Minnesota Trail, which showcases the animals indigenous to Minnesota, and Russia's Grizzly Coast, an indoor and outdoor exhibit that features animals from Russia's Far East.
Address: 13000 Zoo Blvd., Apple Valley, MN 55124
Phone: 952-431-9200
Hours: Memorial Day to Labor Day: Daily 9 a.m. to 6 p.m.; Labor Day through September 30: Monday through Friday, 9 a.m. to 4 p.m., Saturday and Sunday, 9 a.m. to 6 p.m.; October 1 through Memorial Day: Daily 9 a.m. to 4 p.m.
Price: Adults, $18.50; seniors (65+) and children ages 3 to 12, $12; children ages 2 and younger, free
Mall of America
America's largest retail mall is located in the Minneapolis suburb of Bloomington. This 2.5 million square foot mall is a destination in itself, even if you don't buy anything. The four-story
Mall of America
features more than 500 stores as well as a movie theater, a comedy club, an aquarium,
Nickelodeon Universe Theme Park
, a flight simulator and an 18-hole miniature golf course.
Address: 60 E. Broadway, Bloomington, MN 55425
Phone: 952-883-8800
Hours: Monday through Friday. 10 a.m. to 9:30 p.m.; Saturday, 9:30 a.m. to 9:30 p.m.; and Sunday, 11 a.m. to 7 p.m
Price: Admission to the mall is free, but some attractions require fees
Minneapolis or St. Paul: What's your family's favorite Twin Cities destination?
FOLLOW HUFFPOST