Family vacations in New Jersey can be rewarding experiences or absolute disasters -- it all depends on pre-trip homework. To make planning easier, we've done all the preparation. As part of a Huffington Post Travel series on traveling with children, here are recommended attractions for those planning New Jersey family vacations.
Sandy Hook
The shore area of
Sandy Hook
stretches seven miles across ocean and bay beaches. The park is great for swimming and sunning, and kids will love to explore and identify some of the bird species, over 300 roughly. For restaurants and additional outdoor activities, visit the nearby seaside town of Highlands.
Address: Peninsula off the Atlantic Highlands of New Jersey
Phone: 732-872-5970
Hours: The Sandy Hook season is from Memorial Day to Labor Day
Price: There is no entrance fee to Sandy Hook, but parking is $10 per car
Liberty Science Center
Not only does the
Liberty Science Center
have nine exhibition galleries, including "
Infection Connection
" and "
Energy Quest
," but it also offers IMAX Dome and digital 3-D theaters. In addition, there's a special
Camp In
schedule that allows kids to experience the museum at night. Its tallest exhibit, "
Skyscraper!
," which challenges kids to walk a steel beam, is not to be missed.
Address: 222 Jersey City Blvd., Jersey City, NJ 07305
Phone: 201-200-1000
Hours: Open during the spring from 9 a.m. to 4 p.m. Monday through Friday and until 5 p.m. Saturday and Sunday; open during the summer from 9 a.m. to 5 p.m. Monday through Sunday
Price: Exhibition tickets are $15.75 for ages 13 and older, $11.50 for ages 2 to 12 and 62 and older, $5 for teachers. There's an additional charge for IMAX and JD Feature Films
Garden State Discovery Museum
The
Garden State Discovery Museum
has plenty of hands-on activities for kids to enjoy. There's a rock-climbing wall and reptile exhibits. The museum also offers special events and performances to keep kids interested all day long.
Address: 2040 Springdale Road, Cherry Hill, NJ 08003
Phone: 856-424-1233
Hours: Open from 9:30 a.m. to 5:30 p.m. daily. During the summer (July and August), the museum is open until 8:30 p.m. Monday to Thursday. From October through April, the museum closes at 8:30 p.m. on Saturdays
Price: $10.95 for adults and children over 12 months, $9.95 for seniors. See website for valuable coupons and special promotions
The Crayola Factory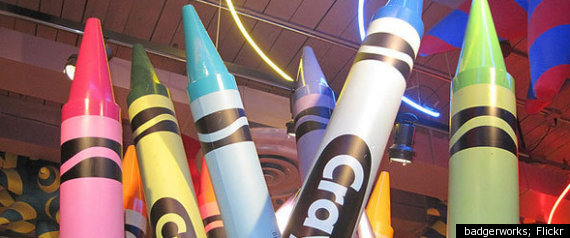 The Crayola Factory offers more than a dozen hands-on activities. Kids can draw, paint and color to their heart's content on a number of surfaces and also learn how crayons and markers are made. Exhibits include "Crayola Crayon Manufacturing," "Crayola Color Carousel," "Crayola Chronology" and "Chalk Walk."
Address: 30 Centre Square, Easton, PA 18042
Phone: 610-515–8000
Hours: Open in winter/spring from 9:30 a.m. to 3 p.m. Tuesday through Friday. Open until 5 p.m. Saturday and from noon to 5 p.m. Sunday. Open during the summer from 9:30 a.m. to 5 p.m. daily. In fall/winter open from 9:30 a.m. to 3 p.m. Tuesday through Friday and until 5 p.m. Saturday and Sunday
Price: $9.75 for adults and children ages 3 to 64; $9.25 for seniors 65 and older; free for ages 2 and younger
Six Flags Great Adventure
The
Six Flags Great Adventure
park is not just an amusement park; it also includes Wild Safari, the largest drive-through safari outside of Africa. The family can enjoy all the thrilling family and kids rides of Six Flags, as well as numerous entertainment, food and shopping options, then head over to Wild Safari and experience the 4.5-mile auto trail across the 350-acre wildlife preserve, which is home to more than 1,200 exotic animals.
Address: 1 Six Flags Blvd., Jackson, NJ 08527
Phone: 732- 928-1821
Hours: The park is open from early April through October. Dates and hours of operation vary by day of the week and season
Price: $59.99 general admission; $34.99 for juniors under 54 inches tall; free for kids under age 2. Buy tickets online for everyone at $34.99. Upgrade for safari access for $11.99
New Jersey Botanical Garden
No family vacation in the Garden State is complete without a trip to the
New Jersey Botanical Gardens
. With 96 acres of specialty gardens and 1,000 acres of woodlands, there is plenty to explore. Plus, the gardens hold Family Woodland Walks and special events such as concerts and garden parties.
Address: 2 Morris Road, Ringwood, NJ 07456
Phone: 973-962-9534
Hours: Open from 8 a.m. to 8 p.m. daily
Price: Admission is free. Parking is $5 per car on Saturdays, Sundays and holidays from Memorial Day to Labor Day
The Statue of Liberty
A gift from the people of France to the people of the United States, the Statue of Liberty is a must-see historical monument. This symbol of freedom and democracy is located on Liberty Island and access is by ferry, which will also take you to Ellis Island, the historic point of entry for immigrants in the late 19th century and early part of the 20th century.
Address: Liberty Island, New York, NY 10004
Phone: 212-363-3200
Hours: During the summer, ferries depart at 8:30 a.m. Hours vary by season
Price: There is no entry fee, but the sites are only accessible by ferry. Ferry tickets are $5 for children ages 4 to 12, $13 for adults 13 and older and $10 for seniors 62 and older
Have you been to New Jersey? What are your favorite attractions?
Check out more FAMILY VACATION GUIDES.